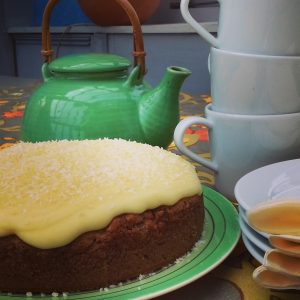 Sometimes it's nice to do a bit of old fashioned baking. The sweet, warm aromas, the cutting of the cake around a table with friends: it's full of heart. The purist vegan in me is a little offended by analogues – here soya flour providing the binding agent lecithin that you would get from albumin in an egg – but pah! Who's complaining.
I'm still to discover what this 'Passion' cake has to do with events at Golgotha nearly 2000 years ago. It's very homely, and the icing, made with coconut cream and orange juice always wins.  I was fascinated to read the ingredients for mixed spice: ground coriander seeds, cassia, ginger, nutmeg, caraway and cloves. Coriander in a cake!
You'll find the cake itself not overly sweet; the icing kind of compensates.
Teatime. Serve with rooibos or yogi tea. Ahhh.
Ingredients c 12 slices
250g self raising wholemeal flour
1tsp mixed spice
2tsp ground cinnamon
3tbsp soya flour usually available in health food shops
6tbsp water
175g soft brown sugar
50g walnuts, chopped
75g dried fruit eg figs, sultanas
1 large ripe banana
150g carrots, finely grated
175ml oil rape oil is good
about 2tbsp non-dairy milk, eg hemp
Icing
200g block creamed coconut
75ml boiling water
grated rind of an orange not the pith at all
3 tbsp icing sugar or golden caster sugar blitzed with the handblender
3tbsp orange juice
50g lightly toasted desiccated coconut
Method
preheat oven to mark 5/190C/170 fan. Grease and shake round with flour a 20cm tin spring release is good
combine the flour and spices in a mixing bowl, mix in the fruit and nuts and make a well
mix the soya flour and water. Combine with the mashed banana, oil, sugar, carrots (I use a jug) and pour into the well bit by bit and mix in with a fork stirring from the centre
add the milk to make a thick dropping consistency
pour into the cake tin and cook for 40-50 minutes til firm to the touch
allow to cool on a cake rack, releasing the tin once the cake has come away from the sides
when cake is completely cool make the icing:
cut up the coconut cream roughly and put in a bowl or pyrex jug
add the boiling water and mash up with a fork when measuring scald your measuring jug first so that water is still v hot when you add it to the coconut 
add the orange rind, sugar and juice and use a hand blender to make a smooth and slightly runny icing
put the icing on the cake; it will set hard later
in a frying pan over a low heat toast the coconut – don't let it brown/burn – keeping it moving and sprinkly over the top
Update: this amount works well in a 12-bay muffin tin too