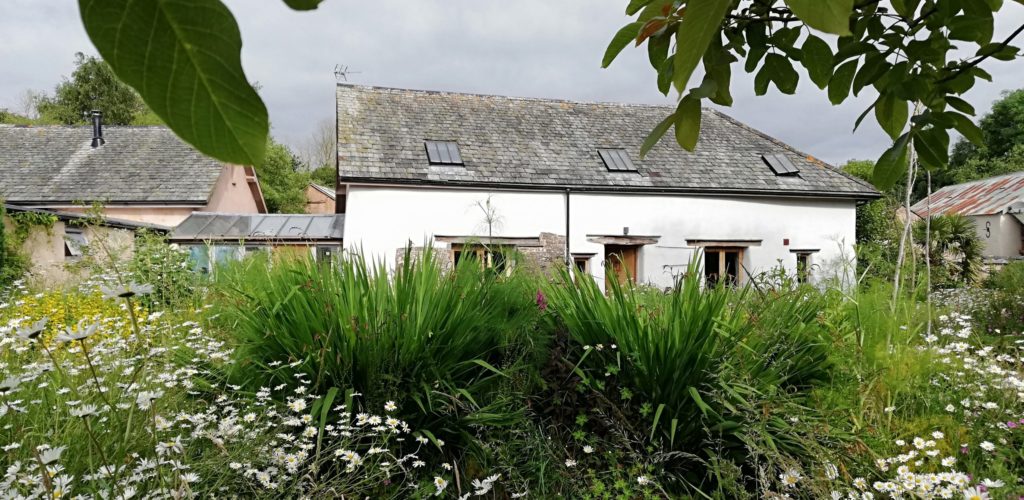 Viveka Gardens has accommodation for weekend retreats, bespoke individual retreats and conscious B&B. 
See the beginning of season newsletter with LOADS of pictures so you can visualise yourself here
A beautiful, calm and relaxed space. Cool, peaceful and simple design. Bed was really comfortable, and the sleeping area had a positive vibe. Delicious food, especially the lemon shortbread and Shepherdess Pie! Liz, Exeter, bespoke retreat
The property consists of two four-hundred year-old barns, in traditional Devon cob, tastefully and comfortably converted within the last 10 years. A contemporary conservatory links the accommodation and this is where we eat (if not outside). Click on the links for images.
Bliss Barn – airy converted barn with three partitioned spaces and woodburning stove: Oak up a ladder into a loft space (1 – 3 spaces), Ash by the French windows (either two singles or a double), Elm in the main space (either two singles or a double). One shared bathroom (shower and toilet).
On public retreats (ie not bespoke or collaborations) the Bliss Barn accommodates three, one in Ash, one in Oak; one in Elmshared bathroom (shower) between two.
Santosha Loft – traditional oak framed with wooden floor and ensuite bathroom. Sleeps up to 4. On public retreats sleeps three; one shared bathroom  (bath with shower attachment).
Shanti Suite – large room with single bed with adjacent private bathroom (shower) and sitting area (not generally available during group retreats, it's Fiona's acommodation)
The buildings are situated in 8.5 acres with a modern herbaceous perennial garden, kitchen garden, orchard, paddock, woodland and large field with super view across the valley and a newly planted wood in the growing. You are free to wander, wonder, sit and ponder with just the buzz and flutter of insects and chirruping of birds. There is no light pollution and wonderful night skies, and sweet fresh air.
'We have been gifted a very relaxed, peaceful and beautiful few days at Viveka Gardens, made all the more enjoyable with your friendship, food and yoga. We wil pass on what a very special place you have here'. B, Oxford
'I stayed at Fiona's yoga farm for just one night, but felt like I'd really found a home and that I'd been there a week. It was so utterly beautiful and had a peace and serenity that meant I slept and slept and woke so refreshed. It was wonderful to meet Fiona too, to be made so welcome, to feel so relaxed, and to have so many fascinating conversations. I will definitely return!' R, Oxford B&B