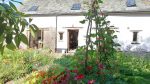 Looking forward to hosting you very soon at
Viveka Gardens
unnamed road, West Leigh,
Crediton, Devon EX17 6BL
If using googlemaps there isn't usually a problem getting here: just enter Viveka Gardens. Satnavs also seem to be fine using EX17 6BL.  If you don't use either, please prepare your journey very well or it is likely you will get lost! Note that there are various West Leighs in Devon and this West Leigh is too titchy to be found on roadmaps.
What 3 Words: crossing.finally.resonated
Once you get to EX17 6BL, you will see West Leigh Cross, a T-junction. Go down the leg of the T signposted East Leigh 200m and VG is a drive opening on the right. If you come via East Leigh in the first place, go on just under a mile from East Leigh and after two sharp S bends, going past 'Woodhay' on your left and 'Brookside' on your right, you will find VG 50m further on the left.
If at all possible, try not to ask the neighbours for directions – thank you for your understanding. Bigger signs coming soon! Please park in the bays on the left hand side of the drive.
West Leigh is equidistant 20 minutes away between the towns of Crediton and Okehampton to the east and west, and between the small town of North Tawton to the south and the village of Coldridge to the north. The Dartmoor National Park is 15 minutes away.
By public transport from further afield: train or coach to Exeter and then either on to Crediton (10 minutes, hourly) or Morchard Road (another 15 minutes, hourly on the dinky Tarka Line) and we can arrange a lift. Buses can also take you there, or to North Tawton (55 minutes from Exeter) which is handier for a pick up. For retreats we aim to arrange car shares and shared taxi rides.
Crediton 11 miles/20 minutes
Exeter 18 miles/35 minutes
Chagford 16 miles/30 minutes
Okehampton 12 miles/20 minutes
London M4/M5 200 miles/3hr 50mins
Bristol 88 miles/1hr 50 mins
Plymouth 1hr 20mins (eg coming via port)
Exeter airport 44 minutes
subscribe to the newsletter for updates
Don't hesitate to be in touch:
01837 880050
07914 843619
Viveka Gardens, West Leigh
Crediton, DevonEX17 6BL
Fiona Law