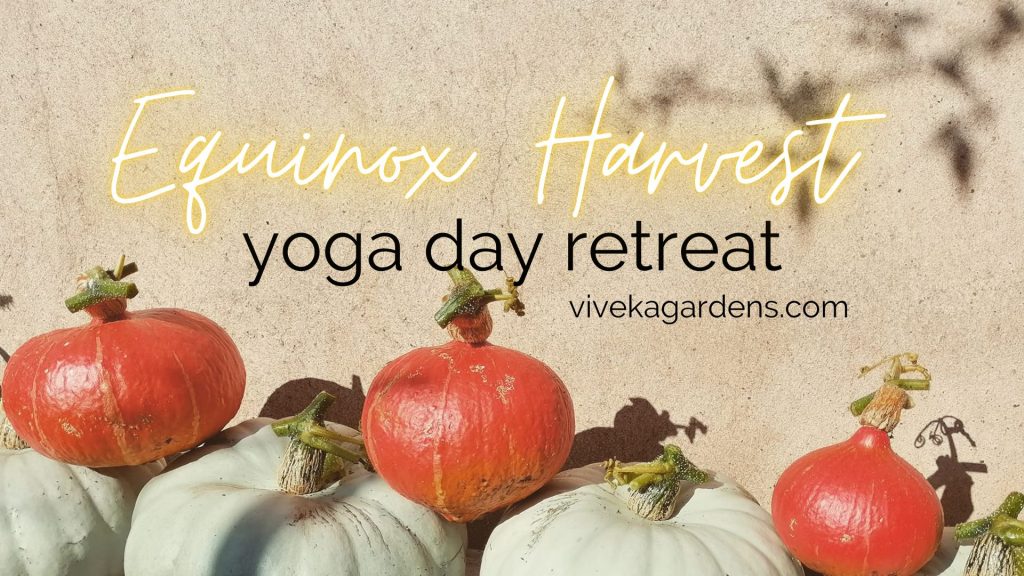 Autumn Equinox and the Turn of the Season
Just past Equinox and celebrating harvest, a day to adjust to the season and set intentions.
Drop and rest with restorative yoga, circle and especially yoga nidra.
On the land, after lunch, we'll have some gentle tasks in rhythm with the season: cutting back, harvesting, bulb planting.
Three places only to complement the weekend residential retreatants
"There is thanksgiving for all the earth's abundance but there is also a letting go of the summer. There is a movement of going underground and more inward as we step though the doorway into winter. The double spiral is symbol of the aumumn equinox as we are poised between the outward harvest of the past year and prepare to journey in towards the darker months. The balance of the equinox celebrates the wholeness of light and shadow, the seen and unseen, the known and unknown, death and re-birth, creation and destruction. Spiritually, if we are to make space for the new, we need to embrace rest and renewal, almost like brushing the fallen leaves of the soul to clear a path for what will come. We plant bulbs now and keep them in the dark until they are nourished and read to come up into the light later, changed and transformed by their time beneath the surface." Rev Tess Ward in September The Celtic Wheel of the Year
I was feeling very disconnected from myself. Today I feel so much more grounded and reconnected with the universe. I love that we all felt like a little family and the energy built up was truly empowering. Cannot say thank you enough. DH

A wonderful practice, and very well-timed for me. It's had a significantly profound effect on me at a point in my life where I'm leaving my career and moving forward into new things. Angela, Tavistock

Just what I needed to rebirth, go inward and rest. The body and mind just wanted to feel contentment, without attaching anything to outcome. I got just this. PW-P

Yesterday was a truly wonderful experience. I feel an amazing sense of clarity today. I also slept for 13 hours solidly… Thank you so much. LC
Saturday September 23
10 – 4
£75
includes vegan lunch, teas and afternoon snack
Viveka Gardens is keen to make yoga available to all – bursaries for those on benefit/low income Please contact to discuss
  subscribe to the newsletter
Day Retreats in Rhythm with Nature: Autumn/Winter Collection