In real life at Viveka Gardens or online
+ if you are just starting yoga or rusty to inspire and give confidence
+ if you are a long term practitioner you will get fresh inspiration and insight
+ if you are older, stiff or recuperating you will benefit from very gentle exercises at your pace for new flexibility and vitality
Fiona is an experienced and kind teacher and Viveka Gardens is an inspiring place to practise some nice comments
Private tuition is useful if:
you have previous injuries or specific health concerns
you want to develop certain areas of your practice
you have a specific goal, such as increased flexibility or gently building bone/muscle strength
you feel inhibited in a public class
your schedule prevents you from attending group classes
Small groups (2 – 4 people) benefit too – couples, families, friends, colleagues, mixed ages and abilities
For beginners
Feel confident with fundamental techniques such as the yogic breath

Learn the basic postures and their benefits on physical, mental and subtle levels

Begin to understand the wider context of yoga
For more experienced people
Develop pranayama and practice advanced breathing exercises

Extend yourself with more challenging postures

Get tips and techniques for more mindful practice
For less mobile, stiff or recuperating people
adapted chair-based practice
very gentle movements to bring back flexibility
increased vitality and feeling at home again in the body
I had 3 sessions one to one with Fiona at her lovely studio in the peace and quiet of mid Devon. I wanted to go deeper with my current practice and working with Fiona, I certainly did that! She is patient and encouraging and listens to what you need in both your body and heart. My practice at home has definitely stepped up a notch with postures that I thought I couldn't do. Thanks so much for your insight and guidance. I'd highly recommend some one to one sessions whether you have just started or have been practising for a while. Well worth it. Caroline, Bow

I've thoroughly enjoyed my 1-1 lessons with Fiona as she is extremely approachable and knowledgable and the lessons were tailored to my ability, which as a beginner to Yoga was great and she adapted the exercises to suit me. I would recommend Yoga to everybody as I use it as part of my daily routine now as it is a lifestyle change and the physiological and psychological effects of yoga practice are extremely beneficial. Viveka Gardens is a very positive space to practice Yoga and with Fiona you'll be with a teacher who has great expertise. Moira, Copplestone

My husband and I had been searching for a while to find the right yoga teacher and as soon as we stepped into Viveka Gardens and were welcomed by Fiona we knew we had come to the right place. As beginners we began with three 1:1 sessions where we could focus and build our confidence. Each session lasted 90 minutes. Fiona has created a positive and calming atmosphere in which to practice yoga but it's also a learning experience with Fiona sharing further knowledge beyond just practising the yoga asanas/postures. Fiona is a positive and encouraging teacher and you're in an environment where you can both push yourself or stay within your own level of capability until you gain more practice and confidence. The 1:1 sessions have been a great starting point giving us the confidence to practice at home although we will continue to come to the weekly classes. If you're looking to give your mind and body a positive, healthy relaxing and invigorating experience you should look no further than Fiona at Viveka Gardens. It will leave you wanting more! Ingrid & James, Morchard Road

I signed up to do some 1-1 yoga sessions with Fiona to brush up my practice after a few years lapse. I found her an ideal teacher because she was open to my story and we worked on a routine that enabled me to continue alone at home. She knew when to push me a little further but was also sensitive to my limitations (arthritic hip). She's very experienced and generous with her knowledge and the sessions with her are a great joy. Susy, Black Dog

I had 3 1-1 sessions at Viveka Gardens to help me build the confidence to practice yoga alone at home. Fiona is a very warm and welcoming person and an amazing teacher with a vast amount of knowlegde and experience to share. The yoga sudio is in a wonderfully peaceful location, it is full of natural light. Fiona has created a relaxing and inspiring environment to learn and practice in. Matthew, Crediton
You might also consider
Coaching
How to develop your yoga practice? How to integrate yoga into your routine? Fiona has an advanced coaching diploma and also offers Life & Spiritual Coaching.
Yoga Nidra
Guided lying down meditation co-created with you for your specific situation, needs or goals
deep rest
personal insight
insomnia
stepping into change
visualising an aim
set up a consultation
One-to-one and small group sessions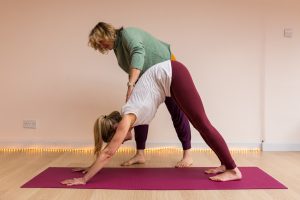 private yoga classes for you
you and your partner
with small group of friends
set up a consultation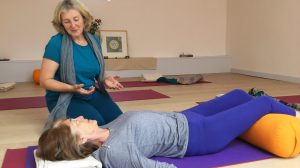 Private tuition at Viveka Gardens or online 1-1 or group up to 4
90-minute session £75
allows for both instruction and relaxation
3 90-minute sessions £200
ideal to develop and consolidate learning
Also available: VOUCHERS printed on embossed card, blank inside for your message, supplied with envelope more info