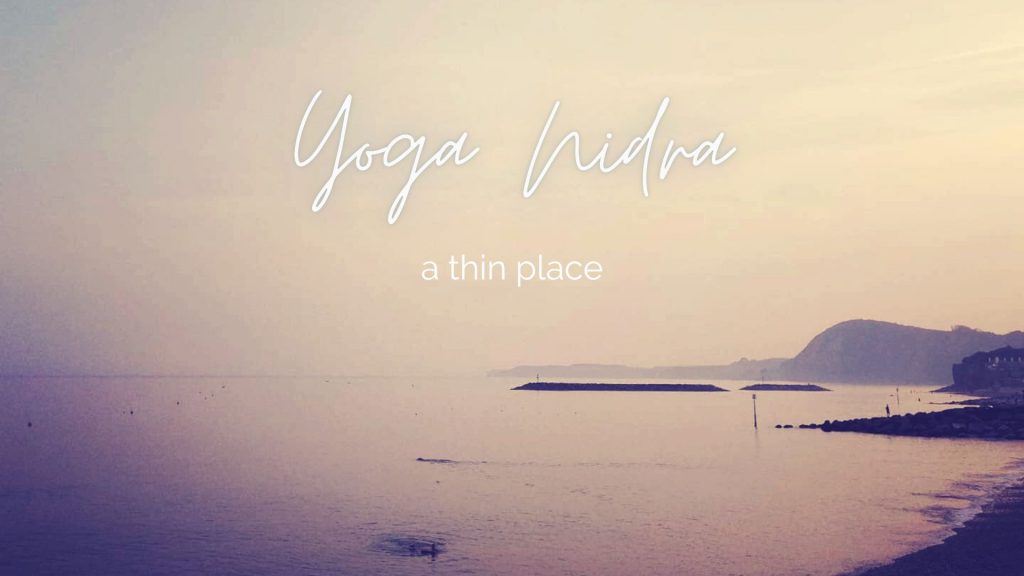 Yoga nidra offers deep relaxation and personal insight. This is relaxation of the body-mind, especially of the nervous system and emotions.

Nidra means sleep; yoga nidra is sleep with awareness. Thus, neither sleep nor wakefulness, it's a liminal, threshold or 'thin' place. Here nuance and paradox can be held, and intuition arise.

There is nothing to do, nothing to achieve. And good news, it's yoga you do lying down, comfortably propped with cushions and blankets, if needed, for either 20 or 40 minutes. No holding of tricky yoga poses, though doing yoga exercises will definitely increase the benefits. Simply allow the facilitator's guidance to wash over you. There is nothing to do, nothing to achieve. Just properly rest and unfold to what's inside.

How does it work? You are invited to lower the mind waves to the levels of daydream, dream and even deep sleep (from beta to alpha, theta and delta waves) but without actually falling asleep. As in a good night's sleep, the nervous system relaxes fully so that the body and mind are able to access profound relaxation. The body goes into rest and repair mode, gets on with the jobs that stress has prevented and spontaneously heals itself. Similarly the mind, once relaxed, lets go of worry and presses the re-set button. In addition, emotions fall away, leaving you with new clarity. The facilitator leads you through discrete stages of the practice. You come out of your yoga nidra feeling relaxed, joyful and positive.

Benefits Yoga nidra is adaptogenic, that is to say if you have a sleep debt (for instance through worry, insomnia, a baby or chronic stress) then you will probably fall asleep and have a wonderful 'power nap', awakening relaxed and refreshed. Not falling asleep comes with practice. If you are generally ticking along fine you will have new insight. In either case you are freed from limiting family and societal conditioning or self-judgement, and there is a feeling of coming home to yourself, connected and with purpose.

Higher benefits Yoga nidra works on all levels of your being to release, relax and open. Once this happens you can access innate knowledge. Some would say it's your subconscious, your heart, intuition, the higher consciousness, your inner teacher, God – and so have insight into the big questions such as: 'Who am I?' and 'What should I do with my life?' Alternatively, or in  addition, an unexpectedly creative solution to a current conundrum will arise. Understanding may come through words, images, a felt sensation, other ways or a combination. It's good to have a notebook handy to jot down your observations afterwards.

Sankalpa Lastly, if you have an intention, goal or vision, a sankalpa, nidra can help you embed this in your being so you take it deep in. The facilitator will signal the opportunity for this. My preferred translation for sankalpa is 'heart's prayer' as this gives the sense that it is a divine direction. In addition, the oft -quoted, 'what is it you plan to do with your one wild and precious life?' (Mary Oliver) – this could be your sankalpa.
A wonderful practice, and very well-timed for me. It's had a significantly profound effect on me at a point in my life where I'm leaving my career and moving forward into new things. Angela, Tavistock

Yesterday was a truly wonderful experience. I feel an amazing sense of clarity today. I also slept for 13 hours solidly… Thank you so much. LC

I found this workshop profoundly beneficial on a mental and physical level. I would highly recommend to anyone, whether you've had any experience with yoga nidra or not. Gerardo 

You owe it to yourself to try Fiona's yoga nidra workshop. I am a longtime yogi and teacher and I had no previous experience of yoga nidra. Fiona's workshop was amazing! Her voice and pace were soothing , the atmosphere was relaxing, sending me off into state of deep relaxation. The workshop felt like a decadent treat for the soul! Naomi 

Deeply nourishing workshop thank you. Fiona holds a lovely safe space and executes it impeccably and in a very personable way. Gavin Frank 

Fiona led a wonderful Yoga Nidra workshop which was very nourishing and calming to mind body and soul. She explained the origins and theory behind this powerful practice as well as guiding us through gentle yoga exercises and three yoga nidra meditations. These allowed me to relaxe far more than I had for quite a while and I found the workshop really inspiring. I look forward to practising further yoga nidra and trying some of Fiona's other workshops. Claire
Yoga Nidra
Join the Friday Night Nidra online community from around the world for monthly lie-downs

Nidra features in the Day Retreats