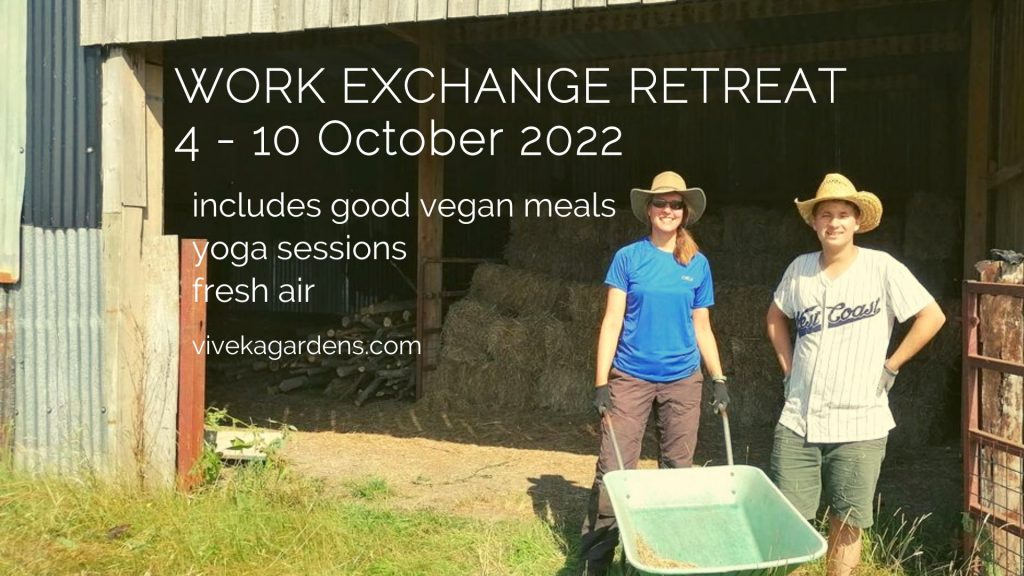 We run specific work exchange retreats here (not long-term individual stays).
2023 dates to be confirmed but do sign up to the newsletter to be notified when they are coming up
It's a six-hour work day in return for:
– vegan meals
– morning and evening meditation
– yoga classes
Accommodation is shared in a converted cob barn
As the holder of the space here, it's always nice when people have already forged a sincere relationship via facebook, coming to classes or retreats. A lot of enquiries are from folk who are scatter-gunning and simply looking for a bolthole. But I understand that people who are free to stay for a week or so are likely to be in a re-configuring stage of life, and VG would love to support that. Fiona
We are looking for practical people used to working outside who can garden, clean, have land skills; we are NOT not looking for yoga teaching or cooking, or therapies, though practitioners are, of course, welcome

Requirements:
– physical strength and fitness for outdoor work (work will be safely paced)
– willingness to listen to safety and task guidance
– taking personal responsibility and caring for the safety of the group

Benefits

-an opportunity to develop yoga practices and explore spirituality
-ad hoc training in horticulture according to the tasks in hand of the season
-a safe, warm and inclusive environment for relaxation, learning and sharing
-an ashram/monastery-style life
-accommodation and vegan soulfood
It is possible to join the group for individual days if you are local but you must arrive in time for the group briefing at 9am (c8.45)
To comply with employment rules (volunteering is classed as employment) you must either be a UK citizen or Commonwealth citizen with the right to abode in the UK, EU Settled Status, BNO passport holder (Hong Kong) or have a Tier 5 Youth Mobility Scheme (working holiday) visas. We reserve the right to ask for proof of this.
As a 100% vegan retreat place there are no livestock or carnivore pets here. The land is managed to increase plant, animal (especially pollinator) and fungal diversity. A Barn Owl has moved in and the main field is the Hare-Prayer field. Fox, deer, badger, field voles and possibly dormice are among the other mammals using the land.
Read more about the land and projects here since 2016
Before applying please read full info here
To know more, follow Fiona on facebook and/or subscribe to the newsletter
Be in touch with any questions!
WORK EXCHANGE RETREAT

next dates to be confirmed

APPLY

Complete this form being sure to include:
how you found Viveka Gardens
what your skills and experience are
why you'd like to stay and where you are in your life
a little bit about where you are spiritually (also not at all isn't wrong)
it always helps if you've developed a relationship with VG by attending online events or engaging on facebook, for instance
SCHEDULE
Tuesday 4th October
3pm arrival, settling, briefing
5pm early dinner and tour
7pm gentle yoga class
Weds 5th – Sat 8th
7.30 group meditation
8.00 breakfast
9.00 briefing and work
12.30 lunch
2 – 3.30 work then freetime
6pm dinner
8pm meditation then mouna (silence til after meditation next morning)
Sun 9th
Community Orchard Day with Apple Pressing!
nb on Thursday we'll have a snack at 5, practice yoga class at 7 followed by souper soup with the group
Monday 10th
meditation, breakfast and departure
you are welcome to rest til noon if you wish