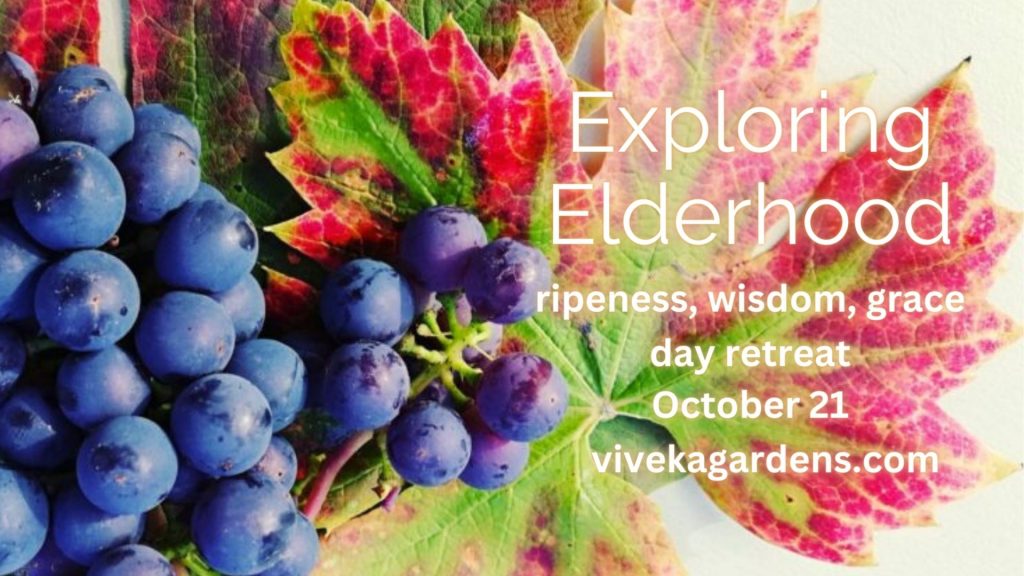 Exploring Elderhood
In the post-menopause season of our life there are changes in our body, changes in how we are seen and heard, changes in our spirit and our aims. What does it mean to be an elder? How am I going to inhabit my elderhood?
Almost unique among mammals, human women continue their life long after reproduction stops. In the 'grandmother hypothesis' of evolutionary biology it is to support the thriving of children; in hunter-gatherer society to know the history and cycles of the land. An elder is an older, influential member of a family, tribe, or community, but it is clear that this influence is soft power, and earned by grace, not taken.
The wisdom of older women has not always been valued, nor their love and service. With grace and the support of our sisters we see ourselves in the role. And in our generation, we may not have known elders, so how do we model it for the next generation?
With restorative yoga, yoga nidra, meditation walk on the land, sisterhood and good vegan soulfood, we'll rest and dream into this stage of our lives. The practices are gentle and floor based, with adaptations offered, suitable for those with general mobility.
You can read a blog on Fiona's enquiry with elderhood.
For the day you will need
notebook and pen
eye pillow (optional)
scarf to put between your face and various cushions and bolsters in restorative
layers of clothes and extra woolly socks
outdoor waterproof boots (wellies ideal) and coat
All equipment is here. If you bring your own, please only from a pet-free home, thanks.
Best to leave jewellery outside the studio, or at home, and leave off make up.
Fiona is a trained and experienced facilitator of restorative and nidra. Based at her Viveka Gardens Retreat Place in Mid Devon, she brings nature and season-based visualisations to nidra, and years of practice reflecting on the nature and seasons of the body-mind-heart.
Sign up to the newsletter to be sure of knowing about events
I'm handing on peri-menopausal reflections to the many others now working in that area. But here are some reviews from that work here to get the sense of how it will continue.
What a treat and blessing the perimenopause retreat day was. The perfect relaxing, safe space Fiona creates makes you feel comfortable and welcome. Good balance of yoga and reflection. Fiona made the yoga very accessible for a novice like me. Definitely recommend. S, Bristol

I experienced a day's retreat with Fiona focused on perimenopause. Fiona held the space so solidly and guided us simply, authentically and gently, to explore our experience and feelings around this major change in body, mind and heart. She encouraged us to go to the uncomfortable places if/when they arose. I came to a place of feeling empowered in myself, greater compassion for myself, patience with myself, clear on my next personal steps, and connected with a lovely group of women. N, Hindhead

I found the day really enlightening. It clarified many things that I have worrying about and not fully understood. It's been an engaging process that opened thoughts I didn't know I had. I enjoyed the varied structure of the day, which included specific yoga practices to open up our hearts and our minds, a bit of jounaling, a walk in gorgeous countryside and a delicious lunch S, Zeal Monachorum

Thank you for a truly wonderful day: beautiful, magical and a deeply spiritual experience. I was surprised with what came up for me. I will take home so much from the experience. Sharing with other women about our lives thus far, similar symptoms, emotions and feelings in such a safe and held space was very healing. I really enjoyed the process and structure of the day which was very well planned: combining journalling, sharing, yin yoga (which I love) and yoga nidra was perfect. The food was delicious and the meditaion walk was a very moving and heartfelt experience. I will be back for more for sure. R, Oxford

Thank you for such a lovely day! I feel like I have reconnected with myself again. This retreat was just what I needed – a nurturing space to give myself. I loved the variety of the day – the yoga, the meditation walk and the delicious homemade food. I will be recommending to my friends. It was great to meet some lovely new faces too. Sarah, Chagford

It has been truly valuable to reconnect with myself in a very safe an nurturing environment. I've really gained a lot from the yoga and the information on nutrition. Thank you! Sarah, North Tawton

This has been a really special day exploring the menopause with so many layers of richness. Fiona holds the space in such an intuitive and safe way and I had the opportunity really explore aspects of myself. Thank you. Rachel, Exeter
Saturday October 21
10 – 4
£75
includes vegan lunch, teas and afternoon snack
Viveka Gardens is keen to make yoga available to all – bursaries for those on benefit/low income Please contact to discuss
  subscribe to the newsletter
Day Retreats in Rhythm with Nature: Autumn/Winter Collection