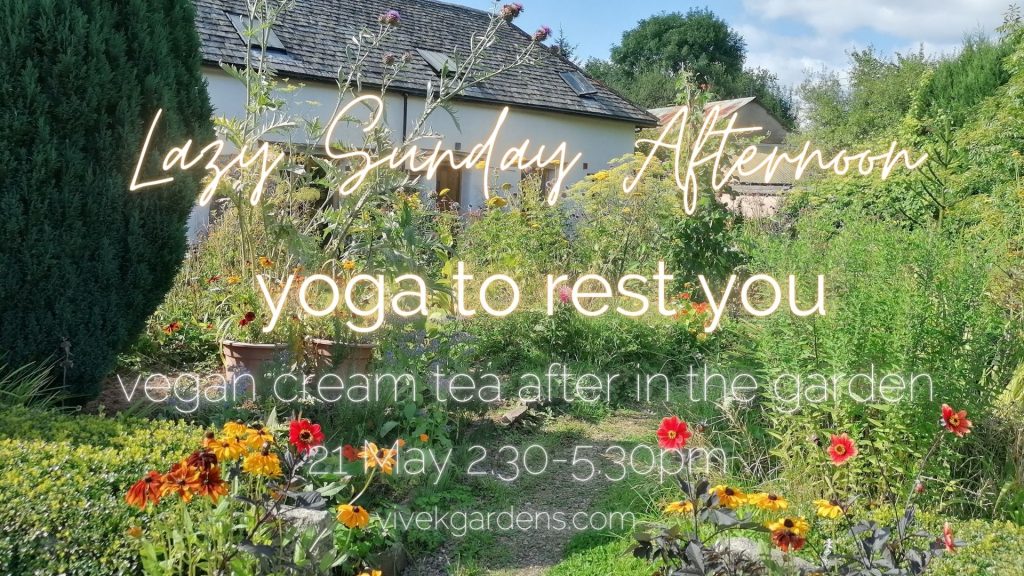 A lovely chance to escape with restful yoga in the airy studio and a cream tea to follow in the garden. I hope my lupins and spring-into-summer plants will be colourful and abuzz for you.

In the day retreat:
practices for rest restorative yoga and yoga nidra
experienced teacher/facilitator
beautiful, safe and welcoming space
yummy vegan cream tea!
Fiona created a mind space for open thought. A gentle retreat to settle and ground and find clarity of thought with profound and powerful practice. I've enjoyed time away from everything and go home lighter, less burdened and with new goals. PS the food was lovely too! L, Fowey

This was the nourishment my mind, body and spirit was yearning for. Such a calm, peaceful environment. A gentle easy structure; Fiona a calm, knowledgablegrounded teacher/guide/leader. B, Chagford

Coming to Viveka Gardens has been such a blessing. An oasis in the desert – stillness, clam, refreshing, a safe place held so lovingly by Fiona. Gentle guidance enabled a novice like me to be able to participate in the yoga practice. The day has provided me physical and emotional space to process life and my steps into the furture. Delicious lunch and cake! S, Bristol
Lazy Sunday Afternoon
Saturday May 21

2.30 – 5.30pm
£40

eight places only, book soon

Viveka Gardens is keen to make yoga available to all – bursaries for those on benefit/low income Please contact to discuss

how to get to Viveka Gardens contact