***2021 – watch this space for work exchange dates or follow fiona on facebook and/or subscribe to the newsletter***
As of May 2021 we're only accepting people who have been in the UK for the past 12 months or so, and have the right to work here (eg EU settled status). You will be expected to commit to taking a lateral flow test before you set out on your journey here and, of course, not to visit if you show any signs of Covid or have been with folk who have developed it. Your compliance with standard anti-covid precautions while here is assumed.
To apply, read this page and look round the website, then please email in the first instance and introduce yourself:
how you found Viveka Gardens
what your skills and experience are (looking for practical people used to working outside who can garden, clean, have land skills; not looking for yoga teaching or cooking,  though practitioners are of course welcome)
why you'd like to stay and where you are in your life
a little bit about where you are spiritually (also not at all isn't wrong!)
it always helps if you've developed a relationship with VG by attending online events, for instance
Thank you for your interest in volunteering at Viveka Gardens Retreat Place. The purposes of a retreat place are to leave behind mundane matters, go within and find inspiration. You can contribute to the higher and more peaceful vibration here with your effort. This benefits all who come here, including yourself. If you are new to ashram-style life there may be some challenges. Please read the following notes to help you decide if this is the right place for you. There is an application form at the end.
Volunteer agreement
You offer
5 days of 5-6 hours' effort a week
We offer:
ad hoc training in horticulture according to the tasks in hand of the season
a safe, warm and inclusive environment for relaxation, learning and sharing
an opportunity to develop yoga practices, explore faith
live an ashram/monastery-style life
accommodation and food
a rural location away from it all
The daily routine includes yoga and meditation/contemplation, self-directed during quiet times, and led during retreats or when guests are here. You are encouraged to do your practice, whatever that may be, and/or join Fiona. After a communal meal, evenings are generally a quiet time for reading/reflection/journaling/practice/playing music. There is a good range of books on food, natural history, yoga and general spirituality. If you love your phone and download a lot of stuff to watch this is probably not the best place for you.
A start and end date to your stay are agreed, with the first week as a trial period for both sides. The agreement can be reviewed prior to proposed end date.

A framework for your time here can be set with coaching goals. My experience wwoofing often was that hosts just wanted me to do the weeding. However, I was in learning and growing mode as I was between stages. At Viveka Gardens we would like to support you in your time out from mainstream. Goals could be about learning to grow food, personal/spiritual goals or whatever is pertinent and you wish to share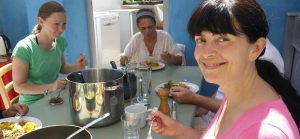 We follow a vegan yogi diet, always tasty, nutritious and filling, we hope. There are gluten-free options where at all possible (let us know in advance). We eat communally.We have lots of lovely herb and spice teas and barleycup for you. Black tea and coffee are not available.
IMPORTANT
It is 100% vegan and caffeine free here. Please be sure you would be ok with that before coming. If you drink tea or coffee, please experiment with the withdrawal effect in advance, a severe headache and grumpiness after 36 hours or so, even if it is 'only one cup a day'. When indiviuals haven't given up it is hard work for all.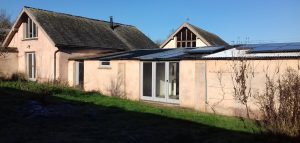 Wifi is slow in this rural area so you are encouraged to make a virtue of it and enjoy a digital detox. Similarly, phone signal is poor. You can of course give the landline number to partner/family for use in case of emergency.
Accommodation
You'll have a comfortable bed in one of the guest spaces,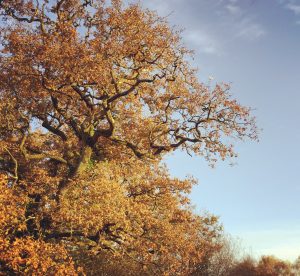 maybe sharing with other people of the same sex. There is good hot water and cosy woodburners.
Drainage is via a septic tank which relies on natural organisms to break down effluent so you are invited to bring organic, biodegradable toiletries. Ideally these are not tested on animals and do not contain animal products. There is Faith in Nature Shampoo and Dr Bronner soap for you to use. Bins are provided for tampons, towels, wipes etc.
You are encouraged to do yoga asanas and meditation or be mindful when others are practising that your activities are peaceful, even if you are somewhere else on the property.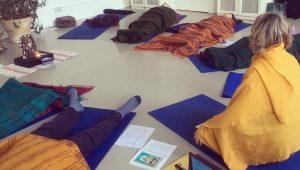 Transport
Contrary to what we would normally want at this time, it's great if you can arrive by car. On public transport, from Exeter you can take a small train to Morchard Road, or buses to either North Tawton or Morchard Road (a stop called the Devonshire Dumpling). We will do our best to pick you up and drop you off on arrival/departure.
This retreat place is a little remote in a traditional farming area – perfect for a retreat place! A 30 minute walk will take you to a bus stop and from there you can go to Exeter, the cathedral town for Devon, the nearest market towns of Okehampton or Crediton, or towards the seaside town of Barnstaple on the north coast, but buses are few and far between. There are nice walks and nearest villages with (very limited) shops are about 4 miles away, so an 8 mile round trip would take a long time.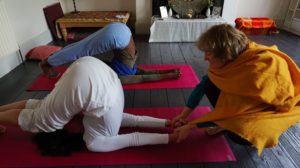 What to bring
Warm and waterproof clothes for outside
sun hat and warm hat
Good working boots and probably wellington boots too (there are some spare wellies here to borrow)
Gardening gloves if you have them
Yoga mat if you have one/are a yogi
Meditation cushion if you have one/are a yogi
Blanket and/or meditation shawl
Comfortable clothes, lots of layers
Slippers, warm socks
Towel
Ideally bio-degradable, organic wash products (to not harm septic tank flora), not containing animal products nor tested on animals – there are toiletries for use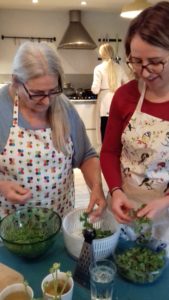 What not to bring: pets, loud music, aggressive/violent/sexual books/music/downloads, fur or other animal products. We accept wool, silk and leather shoes are hard to avoid; see also house rules below.
Toiletries
We supply Faith in Nature shampoo and conditioner, Dr Bronner soap for you  to preserve septic tank flora and avoid the vibration of animal testing/products.
House Rules
At Viveka Gardens the aspiration is to lift the vibration of the place and visitors. Therefore, you are asked to:
attend meditation and asana sessions or respect when they are going on
help maintain the peaceful and pure atmosphere of the meditation/altar space and asana studio in particular, also the other inside spaces and the land
use your phone outside or in the hall and be considerate of retreat participants/other volunteers wanting to enjoy the retreat atmosphere
not bring meat, eggs, dairy, fish, tobacco, alcohol, drugs, garlic, onions, caffeine-containing drinks, honey
aim to observe silence overnight from the end of evening meditation (9.30) to end of morning meditation
leave outside shoes and coats on the hall racks
contribute to the daily tasks in the running of the place as well as your volunteer tasks (included time-wise in your weekly hours)
avoid gossip and negative talk
Thank you for reading to the end. If you feel you would like to volunteer please c
Some feedback:
I spent a wonderful seven days at this beautiful place with Fiona, supporting a yoga teachers retreat and cooking delicious nourishing vegan food. The first two days were spent cleaning and preparing the rooms for the arrival of the teachers. Fiona was very welcoming and I was made to feel very at home right from the start. All of the tasks and jobs expected were easily explained to me, and I never felt overwhelmed or out of my depth and Fiona was helpful and answered any questions I might have along the way. Fiona invited me to join her in early morning meditation and we chanted together which was a lovely way to start the day. Fiona is extremely knowledgeable and she taught me a lot about vegan food and I loved making her recipes throughout the weekend, they were simple yet very tasty and I will be continuing to make these at home. I was able to take part in the yoga classes which I really appreciated and I found being around Fiona and the other yoga teachers very inspiring. I found Fiona to be incredibly generous and we had some really thought provoking and enlightening conversations around many subjects and I really enjoyed getting to know her. This is a really special place and Fiona's vision of it really resonated with me and I felt really privileged to stay there and to contribute. Ultimately I had a wonderful experience and have taken a lot from it. I am excited to go back and see Fiona again and to see how this place evolves over time. I recommend this beautiful place highly to anyone who wants to learn more about yoga, mediation, veganism, sustainable living and community. Thank you so much for having me! Jo August 2018
Fiona's yoga farm is a very beautiful, silent, meditative and paceful place.
The vegan food is delicious. I lived for 10 days in a vary clean and beautiful room.
Fiona is a very kind host, I worked for 5 hours a day, 2 days-off.
Me and an other volunteer worked in the garden, watering the trees and with the
lawnmower. Lorenzo July 2018
I had a wonderful one week stay at Fiona's yoga farm; the setting was idyllic, benefiting hugely from the eco-therapy and utterly peaceful vibe of the property and surrounding area. I was delighted to experience an insight in to the yogic lifestyle and the serenity and source connection that is cultivated from it. Fiona was a fantastic host, she was very understanding and friendly, an empathetic teacher and an energising individual with an inspiring vision. I enjoyed helping with cooking, spring cleaning, weeding and strimming and would love to comeback in the future to see how the Fionas project grows and flourishes. I also participated in some yoga lessons and a meditation course whilst I was their, of which I found very interesting and hugely beneficial.
Namaste Fiona and Om  Ben, May 2018
I stayed for 3 weeks at Fiona's place and had an amazing time there. I truly couldn't ask for more! Like Franzi, the other workawayer, said : with Fiona and her Garden we got the Jackpot! The daily life was very well organized. We always knew what to do and how to do it thanks to Fiona who was carefully explaining to us and showing us every single task – I was very grateful about that!
Above all I would say that Fiona is a mindful person. She was often making sure that we were feeling well, that we had have enough food (so fresh and delicious by the way!), that we were warm enough, that we had enough clean clothes left, … If you are not a native English speaker and want to improve your English, Fiona is also a great teacher.
I am really over the moon when I am thinking about the time I had at the Garden, the things I have learned from Fiona and all the things I experienced! Outdoors work, trees and nature, meditation, yogi food, yoga classes, languages, cultures, reconnecting with yourself, amongst other things.
In short, if you are looking for a very special place to volunteer: do not hesitate to text Fiona! I am sure you will get some benefits from this exchange anyway. Laetitia, March 2018
My stay here gardens was wonderful! Fiona is such a kind, inspiring and helpful person and I am grateful that I could join the meditations and the joga classes! Also all the visitors who came there were also very pleasant! I learned a lot about food, yoga and meditation! The tree planting was an interesting work, because I learned about the nature and the trees and it is also a nice work for the soul! I definitely recommend this place!! Thank you fiona! Franzi, March 2018
I stayed with Fiona for 10 days. At the beginning it was fairly new, but you get used to it quickly. I had the opportunity to collect my first yoga and meditation experiences, what I enjoyed. Besides that I have gotten an insight in a life without dairy products and meat, but I did not missed it. The food is healthy, delicious and various, so I appreciate the experience. The work was mainly physically, but Fiona took care that it does not get boring. The work varied from digging out stumps to gardening and plenty of other things. If you are interested in yoga and mediation, I highly recommend Fionas retreat. Max, Feb 2018
I spent an interesting and enjoyable time volunteering over three weeks at Viveka Gardens in Jan 2018. It is set in a beautiful part of Devon close to the magical Dartmoor National Park. I was really impressed with Fiona's vision and commitment to creating a community to share yoga, organic growing and the natural environment. During my stay Fiona willingly shared her knowledge and experience of yogi life and invited working volunteers to join in with morning meditation ractice, chanting and yoga lessons. The food was always freshly cooked and nutritious and we also had the opportunity to try making some of the vegan recipes ourselves.
The work was varied and for the most part outdoors which I really enjoyed, it included, weeding, barrowing mulch, strimming, clearing borders and tree planting. Fiona is an experienced and empathic teacher and I really enjoyed learning about and practising Sivananda yoga with her. I felt that I learnt a lot during my stay about yogi life, living in community and also about myself and am grateful to Fiona and the other volunteers I shared the time with. I will definitely return again to see how this inspiring project develops. Thank you Fiona. Jude, Feb 2018
I stayed at Fiona's wonderful Yoga Farm for 1 week as a "workawayer" and really enjoyed the tranquility and beauty of the countryside. Her Yoga lessons where my highlight so was the meditation in the morning. I am thankful for the opportunity to get to know Fiona's strong vision of an ashram like farm in GB. I really recommend this place to everyone who is interested in a yogic lifestyle that is connected with the beauty of nature Franka, Jan 2018
I had a lovely 3 day stay with the host over the New Year. The tasks were varied and interesting, especially when coupled with Fiona's clearly vast and extensive knowledge of plants and the land. The food was all freshly prepared, so delicious and I really enjoyed learning more about the yogi diet and lifestyle. 
I loved the lack of signal and no tv, it was the perfect quiet retreat from modern day life. Fiona was a great host, forthcoming with information and patient when explaining new things.  I definitely look forward to returning in the future…100% success on my first workaway stay! Lucy, December 2017