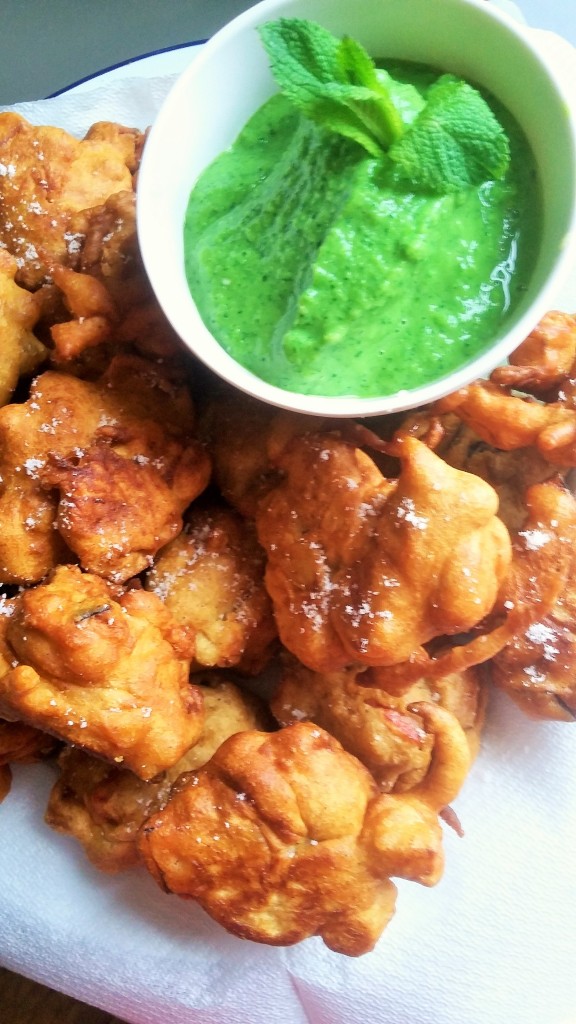 Fried, salty food is not so good every day, but for a celebration it's perfect. Gram (chick pea flour – protein!) is used to make a batter to coat vegetables and these are deep fried. The first time I made pakora I felt grown up, in charge of a pan of very hot oil for the first time.
As gram can be a kitchen cupboard staple, and you can use any vegetable for the pakora, it's perfect for an impromptu visit of friends around the table or celebration where you take a plate.
You can also serve with a gorgeous green salad and lemon and oil dressing.
There are two ways to do pakora. You can finely dice the veg and mix with the batter, or have fun with veggies' natural shapes: roundels of aubergine, cauliflower florets, sections of green bean, slices of potato.
A note on peas. The sweetness of peas is a lovely counterpoint to the fenugreek and other bitter/pungent spices in the garam masala. Generally frozen food is not a great thing, but peas are frozen more or less instantaneously. You would be lucky to get fresh peas in the volume needed, mainly because if you are growing them yourself they ripen constantly in small amounts. Also, they tend to get popped as a sugar boost when out at the allotment/garden…come to Viveka Gardens to taste peas from the plant…very few if ever making it to the kitchen. Adding lemon, salt, and aromatic mint to this peamint dipping means you get the chutney effect described in the date and ginger chutney recipe, an additional/alternative dipping serving option with pakora. On with the recipe.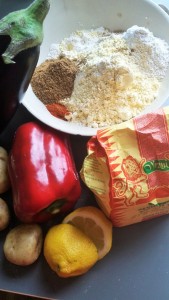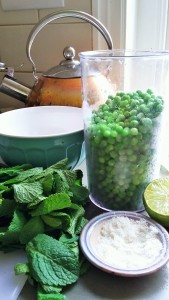 Ingredients for around 24 pieces, say six guests as a starter or with other snacks
250g gram flour
50g self-raising flour can use wholemeal, but can make the batter a bit more stodgy or plain flour with 1tsp baking powder
1 desert spoon garam masala I hope to be able to get Marian from the Sivananda Centre in London's recipe; I use one from Brixton Wholefoods where they sell herbs and spices in jars and you can weigh out your own
1/4 tsp chilli powder or cayenne pepper
1/2 tsp fine salt
juice of one lemon
water to mix
200g mixed veg chopped into half centimetre dice you can decide how chunky or fine you want it depending on time and taste, or  pieces
500ml vegetable oil (I use organic rape seed)
for the mintpea dipping
500g frozen peas cooked in boiling water for the very minimum amount of time indicated on the packet and cooled although for yourself mayb you are happy to simply use semi-defrosted peas. I'm just not sure on the health and safety of that
big handful mint leaves chopped roughly
juice of another lemon
1/2 tsp salt
c 60ml, four tbsp water
Method
sift together the dry ingredients and make a well in the centre
in a cup add some water to the lemon juice and little by little pour it into the well mixing with a fork, drawing in more flour from the sides slowly and avoiding lump formation. Add more water in small amounts until the batter has a consistency that coats the back of a spoon. Let the batter rest for a 10 minutes – the acid of the lemon juice and the alkali of the bicarb in the baking powder produces bubbles of gas making an aerated, lighter batter
meanwhile prepare your peamint: put the chopped leaves, lemon and salt in a small bowl to macerate for a few minutes
using a hand blender, add the water to the peas, maybe some of it to start with, and blend to a puree
add in the mint etc and whizz together, adding more water if you'd like it more runny put aside in a nice bowl with a sprig of mint on top
heat the oil in a deep frying pan or wok on high you can adjust it as you go if you see the pakora are cooking too readily on the outside and the batter/veg aren't cooking. Do not leave the pan unattended
take desert spoons of the batter and using another spoon gently push the batter into the pan or take your veg pieces an similarly lower them in avoiding burning your fingers or splashing
use a fork or chop sticks to turn the pieces over, 2 -3 minutes each side, until golden brown I usually do batches of 6, five round the sides, one in the middle
lift out with a slotted spoon or fork and allow any excess oil to drain into the pan, then put on a plate with kitchen paper I don't find much oil comes out
sprinkle with salt and serve with the mintpea dipping sauce