I feel tamarind should be in the title as this is a distinctive taste that always makes the tastebuds sit up and take notice.  Its sour taste is very pleasing in conjunction with the other tastes in chutney: salt, acid (lemon juice), sweet (dates) and pungent (ginger, cayenne pepper). Chutneys round out a meal because they have the five tastes giving the feeling of a complete meal. Satisfaction.
Why fresh chutney? Well, classic chutney and pickles are preserved using vinegar, a fermented product. Fermentation is not sattvic (see here for explanation). This is an adaptation of a classic recipe using dates instead of raisins and adding in tamarind. I often used sultanas instead of dates. It's a quick and easy fresh chutney that always goes down well and will store fine in the fridge for a few days, if there's any left.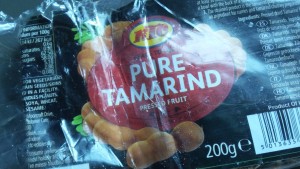 Tamarind is a store cupboard staple for many Indian, African and West Indian cuisines, though the plant is indigenous to tropical Africa. It's a dried fruit that is squished into blocks. You can buy a paste too, and sometimes the fruit itself, which looks like a bulging pea pod, but the blocks are inexpensive and you only need a small amount. It's not one of those things you can buy organic.
Fun fact: tamarind is the signature ingredient in HP sauce! If you're not from the UK you probably don't know this one, it's a dark brown table sauce made for going with the 'classic' English breakfast of…well, I can't bring myself to write it. HP stands for Houses of Parliament!
Anyway, welcome to this VG staple that goes very nicely with kitcheri and dhal. Hand blender, ready!
Ingredients makes about 8 servings of a desert spoon 
200g stoned dates roughly chopped (or sultanas)
a piece of dried tamarind about 2cm cubed, c15g you will have to wrestle it off, tough and sticky it is and check there aren't any seeds in it
40g fresh ginger, peeled and grated keep the juice and most of the stringy bits are ok
juice of half a large lemon, say, 30ml (2 tblsp)
1/2 tsp salt
1/4 tsp cayenne pepper (not more, it's hot!)
Method
Place the dates and tamarind in your blender container and cover conservatively with c 150ml boiling water. Let them steep for 10 minutes or so…I use a pyrex measuring jug that my hand blender attachment goes in. I warm the jug with boiling water first as the dried fruit can do with the most heat to soften it
in the meantime, peel and grate the ginger roughly and squeeze the lemon
put the ginger, lemon juice, salt and cayenne pepper in with the dates and tamarind
blitz
pour into a small nice bowl and garnish with some coriander leaves