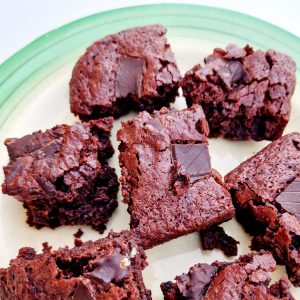 I'm not certain this is the complete holy grail of vegan brownie (soooo many options), but it's certainly very popular on retreats here. I like the slightly grainy chia, but you could use ground flax seed which would be smoother as a binder. Flax contains a lot of omega-3 (great!) but I can never quite get over the slightly fishy taste (not so great). Fudgey and moreish, fattening yet nutritious.
Ingredients (makes 12 -16 pieces)
2 tbsp chia seed ground with a hand blender or electric coffee mill
200g dark chocolate, roughly chopped Tony's Chocolonely dark almond is a nice one here, great chocolate, nutty, salty (omit salt below) and 100% slavery-free
½ tsp barleycup or other caffeine-free coffee substitute
80g vegan butter, plus extra for greasing
125g self-raising flour Dove's gf works as well
80g ground almonds
50g cocoa powder
¼ tsp baking powder
pinch of salt
250g golden caster sugar
1½ tsp vanilla extract
Method
Heat the oven to 170C/150C fan/gas 3½. Grease and line a 20cm square tin with baking parchment. Combine the chia seed with 6 tbsp water and set aside for at least 5 mins
In a saucepan, melt 120g chocolate, the coffee substitute and butter with 60ml water on a low heat. Allow to cool slightly.
Put the flour, almonds, cocoa, baking powder and salt in a bowl and stir to combine and remove any lumps.
Using a whisk or electric hand mixer, beat the sugar into the melted chocolate mixture until smooth and glossy, ensuring all the sugar is well dissolved. Stir in the chia seed, vanilla extract and remaining chocolate, then the flour mixture. Spoon into the prepared tin.
Bake for 35-45 mins until a skewer inserted in the middle comes out clean with moist crumbs.
Allow to cool in the tin completely, then cut into squares.