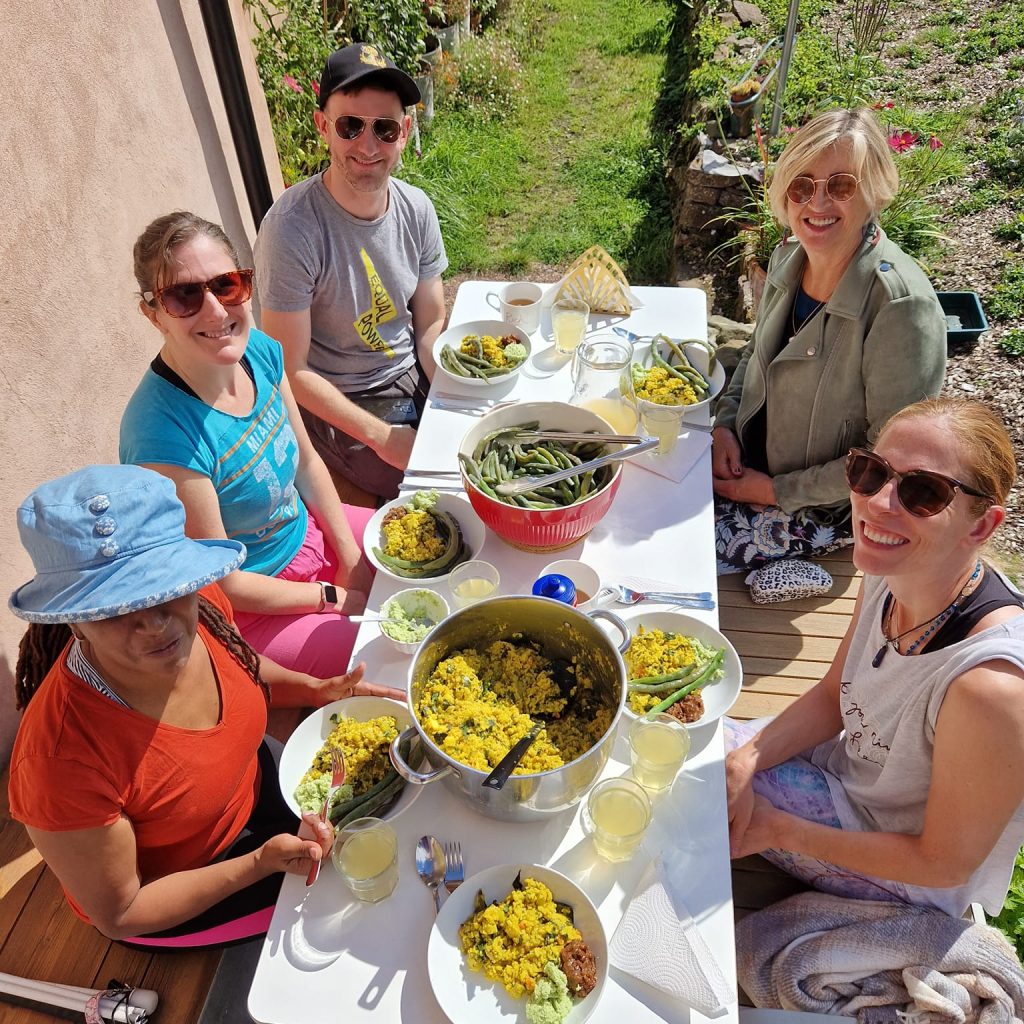 A warm welcome to Viveka Gardens' retreat for Yoga Teachers and Trainee Teachers.
See LOADS of pictures to visualise yourself here; also on my facebook feed and some nice comments to read what others have said
This retreat offers an opportunity to practice the ashram day, take a turn at teaching or leading a workshop, take part in co-mentorship, share good practice, relax with your peers, gain spiritual nourishment and recharge. If you're a beginner teacher, rusty or for some reason have lost confidence, then this stay will support you. If you're experienced you'll get fresh input and the chance to try out a new offering perhaps.
This retreat is at a reduced price to reflect we'll be sharing the teaching and mucking in to maintain our container and mini-community. Teachers from all schools and approaches are more than welcome in a spirit of sharing.  Be prepared to teach a class or lead a workshop and do a little karma yoga.
Details
Arrival from 2pm on the first day and departure 1.00-ish on the last. The retreat finishes in time for a visit to the beach, walk on Dartmoor or in good time to return home. It is possible to stay an extra night: B&B, £50, 11am departure. The accommodation is shared in two lofty converted barn spaces.
I'm looking for the least amount of faffing, dear yogis. You can secure your place with £150 non-returnable deposit and pay the balance four weeks before the retreat.
Go to the accommodation pages and instagram page to see what it's like here at Viveka Gardens.
Be in touch with any questions.
I was very fortunate to spend a much needed sunny and deeply relaxing retreat for Yoga teachers, hosted by Fiona  in her beautiful converted barn in Devon.  The accommodation was spacious, bright and clean. Fiona cooks the most sumptuous, vegan meals with ingredients from her garden. She is a most talented gardener and has the most beautiful garden, field and forest area to walk in. We followed,  for the few days we were there, an 'Ashram day' with meditation, Yoga twice a day, meditation walks and a deeply relaxing Yoga Nidra session.  I highly recommend this retreat not just for  Yoga teachers but anyone wanting to benefit from a Yoga retreat. Claire Wood, gentle and special needs yoga teacher, West London – Claire loved it so much she came back twice and for a bespoke retreat with her family
'Loved the Teacher Retreat! Thank you Fiona Sundari Law for this chance to share our teachings and soak up each others knowledge. This combined with the beautiful surroundings, the delicious vegan cooking, time to reflect and just 'be' and having 'new friends' to bounce ideas off made it the perfect recipe. Highly recommended for inspiration, nourishment and a little glow.' Gina Hayes, Sunshine Yoga, Totnes
'I was very much in need of a recharge, on a multitude of levels and coming on this Yoga teachers retreat has been a real joy and pleasure, I feel like I have got some bounce back. Its been needed time for "being" after too much busyness doing! Peaceful, lovely simple space; nourishing, supportive, comfortable surroundings, nice beds, nice nutrient-dense vegan food made with love and care. I thoroughly enjoyed that we all got to offer a class workshop to the group and learnt and shared in a non-judgement and supportive environment. Nice being in a small but varied group of teachers, from Newbies to highly experienced and long-standing teachers.?? Thank YOU Fiona, huge hugs with much gratitude X' Susannah Nelson, Body Mind Unwind in the Midlands
It's my third retreat here now I think! I love Viveka Gardens and whether it's a yoga teachers' retreat, or a general retreat, it's just what I need to recharge my batteries, connect with people, and immerse myself in my yoga practice. Beautiful space, great food and atmosphere. Camilla, Buckfastleigh
Lovely, expansive weekend at a teachers' retreat with some beautiful souls. John, Exeter
An amaxing weekend away @ Viveka Gardens Yoga Farm to switch off as a teacher I felt i needed an escape to recharge my own batteries. Fiona was a beautiful host very kind and warm and welcoming. I felt right at home on my teachers retreat weekend learnt alot about vegan diet and foods and meet some lovley other yogis the food was so filling and yummy would definitely recommend this retreat place to all teachers and non teachers everyone is welome namaste love. Can't wait to return to nature nuture nourish Jackie, Basingstoke
Please bring:
sun hat and cream if you use it
wellies and water proofs
slippers
layers
meditation cushion, shawl, eye pillow (mats, blocks and bolsters are here)
if you have a sweet tooth, or are a snacker, bring extras for yourself or to share
you may like to bring flowers and/or fruit for the altars
Fiona is a good vegan home cook and you can look forward to wholesome and tasty food. Please respect the vegan yogi diet here (no alliums, milk, eggs etc). The suggestion is we practise mouna from end of evening meditation til after morning meditation.
please see currrent Ts & Cs
July 28 – 31
4-day-3-night stay
household income £40k+ £345
 household income under £40k £295
comfortable, calm and cosy accommodation, vegan meals, fruit bowl, teas
Viveka Gardens is keen to make yoga available to all – bursaries for those on benefit/low income Please contact to discuss
retreat for yoga teachers
Schedule
day 1
Arrival from 2pm
4.00 yoga class
6.00 Supper
7.00 intro/tour Viveka Gardens
8.00 intention-setting nidra (Fiona)
10pm lights out
day 2
6.30 optional indepenent pranyama practice (outside maybe)
7.15 group meditation
8.00 yoga class 
10.00 brunch
11.30 karma yoga 
12.30 personal study/walk/work in the garden
4.00 yoga class
6.00 supper
7.30 meditation walk
day 3 as day 2 with maybe a Dartmoor walk or seaside trip after brunch
day 4
6.30 optional indepenent pranyama practice
7.15 group meditation
8.00 yoga class or self-practice
10.00 brunch
11.30 karma yoga 
12.30 closing circle and departure
Please read Terms & Conditions