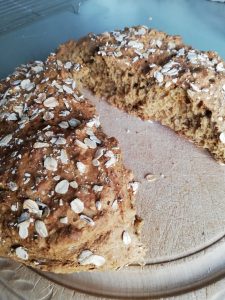 This makes an easy and traditional yeast-free bread. It takes 5 minutes to prepare and 30 minutes to cook, making a loaf crusty on the outside and crumbly soft on the inside. Lovely fresh with soup (such as bean and butternut), or bean pate and is great ftoasted the next day. Traditionally made with buttermilk, here add an acidulator like lemon juice to thicken non-dairy milk.
It's nice to get a lovely quality organic wholemeal flour, or try a malted grain and seed mix.
Ingredients
350 g wholemeal flour
1 teaspoon salt
1 teaspoon bicarbonate of soda
285 ml non-dairy milk
1 tbsp lemon juice (or apple cider vinegar)
Method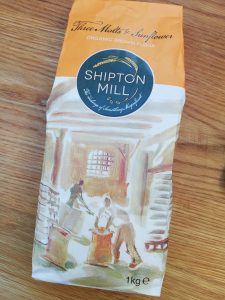 Preheat your oven to 220C / 200C / gas mark 7 / 425F. Dust a baking tray with plain flour and/or some oats.
Mix all the dry ingredients together thoroughly.
Add the lemon juice to the milk, stir then combine with dry ingredients until the ingredients come together as a dough.
Form a ball and place it on your baking tray. Cut a deep cross in the centre – important as it helps the centre of the bread to cook properly.
If you wish, you can dust the loaf with a little flour or oats, then place the bread in your preheated oven for 30 minutes.
Allow to cool on a wire rack for five minutes, take off the baking tray and let it finish cooling on the wire rack…if you can resist breaking into it.