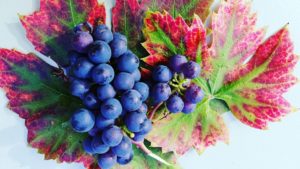 I was confused during the menopause. Confuse comes from the verb to melt: yes I melted with hot flushes. Sweaty nights, deep tiredness, mental confusion. As a caterpillar transforms in the chrysalis, structures melting and being reassigned, I knew there was a transformation going on, painful and uncertain as it was. I know it's a cliche, the emergence of a butterfly, but post-menopause I really do feel I transformed.
Now I'm in the next stage of my life I feel I have a certain perspective. I often heard, 'you're so brave to leave that life and set up Viveka Gardens', but honestly it felt like things had ended and it was time to move on. It would have taken more courage to stay. Yoga, nidra and coaching helped me show myself I could do it. I'd love to facilitate a space where we can share our fears, regrets, joys and hopes. My aim is to share the tools I've since trained in.
I began to feel that the 'oestrogen years', say 12 – 52, had taken over and now that was finishing it might be time to revisit Fiona as a ten year old. For me in particular that was a time of freedom, spending whole days in nature with my friend, roaming up the valley through fields and woods. Out of this came the knowledge that my heart's prayer was to be close to nature and the rhythm of dawn and dusk. Pulling on my wellies and heading out the door at either end of the day is what I do now. What's your heart's prayer?
Our bodies morphed at puberty and on into full womanhood; possibly also in pregnancy. We did it before, we can do it again. I was blessed to read that there's a certain type of meditation in the snow done by Buddhist Himalayan monks, the Menopausal Woman meditation, where they generate internal heat to withstand the freezing cold. And, just as transforming, children need to go through fever to raise temperature in the brain for  development of the mind. I came to feel that hot flushes were literally transforming. In some ways I wasn't as sharp as before but my more subtle awareness was growing. The meltdowns were re-wiring my antennae of perception. Less clever but more wise.
Wise crone (well, relatively) inhabits girl and woman too. There's a feeling of growing into completion. But this is just the beginning, with renewed energy and without the drain of menstruation all seems more possible again. My student and friend Paula (68) featured in Neal's Yard Age Well Revolution campaign wears orange Yaks and is the most stylish person I know. She says, 'I refuse to let age define me'. When I host volunteers in their teens and twenties I understand how the wealth of life experience allows barriers to being yourself drop away.
I acknowledge it's not a simple process and mainly we are in situations where we have to consider needs of others, too. I am still as prone to the usual self-doubt, fear and need for rest. However, just as in autumn a leaf reveals its true, gorgeous colours as chlorophyll recedes, and fruits come into their full, ripe juiciness, so can we.
Please join me for the Menopause Retreat Day with Yoga & Nutrition, for pre-, peri- and post-menopausal women at Viveka Gardens with yoga, meditation, yoga nidra, nutrition talk, yummy vegan food and sisterhood. Together with me and Naturopathic Nutritionist Ellen McCallum, we'll embrace the spirit of transformation.
Feedback
I was really looking forward to today to give myself time to understand the menopause, how it is impacting me and how I can embrace it. This retreat has allowed me to reflect and look forward to the future, learning in a wonderfully safe environment. The yin yoga and nidra, tasty lunch, meditation walk combined with Ellen's talk on diet has inspired me. Thank you. Ingrid, Morchard Road
This has been a really special day exploring the menopause with so many layers of richness. Fiona holds the space in such an intuitive and safe way and I had the opportunity really explore aspects of myself. Thank you. Rachel, Exeter
It has been truly valuable to reconnect with myself in a very safe an nurturing environment. I've really gained a lot from the yoga and the information on nutrition. Thank you! Jane
Thank you for such a lovely day! I feel like I have reconnected with myself again. This retreat was just what I needed – a nurturing space to give myself. I loved the variety of the day – the yoga, the faxcinating talk on nutrition, the meditation walk and the delicious homemade food. I will be recommending to my friends. It was great to meet some lovely new faces too. Sarah, Chagford
A very mind opening day which has fiven me a lot to think about and process. Sarah, Devon