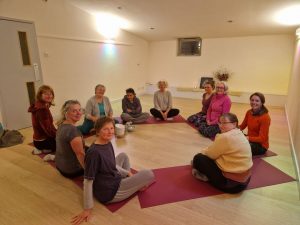 Tangy, sweet and earthy with protein added via salty, herby, slightly chewy chickpeas. Well, the Thursday Night Practice Class loved it. Fenugreek is quite a pongy spice, but it just seemed right for this combo, and not overdoing the spice element. It can usually be found in the supermarket, but it can also be good to buy a larger amount in an Asian supermarket. You can also sow it for the fresh green leaf.
Ingredients makes 4 servings 
500g parsnips peeled and chopped
2 medium bramley apples (but probably other kinds would work) peeled, cored and chopped
2 tsp fenugreek seeds
boiling kettle of water
seasalt and ground black pepper
for the chick pea topping:
125g chickpeas soaked overnight with either a pinch of bicarbonate of soda or a strip of kombu seaweed worth investing in a packet if you are going to cook beans often; for advice on cooking pulses see vivekagardens.com/bean-feast  OR 1 tin of chick peas drained and rinsed
1 tablespoon olive oil
chopped parsely and sage
salt to taste
 Method
see here for how to prepare the chickpeas, but omit the tahini
heat the oil in a largeish pan and fry off the fenugreek seeds so you see them bouncing around and turning a bit brown. Be careful not to burn them. Adding in the parsnip and apple will cool the oil instantly. Turn them over in the fenugreeky oil for a couple of minutes, adding a good few grinds of pepper and and generous pinch of seasalt.
Add the kettle of water to a couple of centimetres above the level of the veg.
let it come to the boil and then simmer with lid covering slightly tilted for 20-30 minutes til the parsnips feel tender. Apple, esp if a Bramley will be over soft, this is fine.
Let it cool for 10 – 15 minutes then whizz to a puree with the hand blender. You may need to adjust with more water.