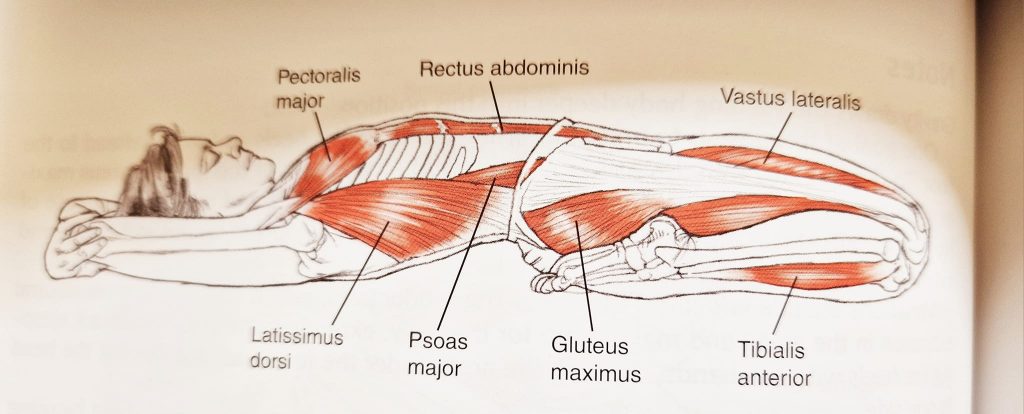 My Friday mornings are for playing and exploring yoga-wise, a mix of CPD and oh yes, this is what it's like to be in my body. It was so good to re-discover yin practice today. I've been focussed on strength for ages but it's so good to come home to almost pure stretch. Suptavirasana/vajrasana in hatha yoga, or saddle in yin: different approaches.
In this is a mini-workshop we'll work with a balanced mix of postures, with breath awareness, holding 3-5 minutes and simply resting. This session is to gauge interest in a regular session on a Wednesday evening in the Spring 2024 term.
This pic (from the excellent Yoga Anatomy, Kaminoff and Matthews) in hatha style focuses on the muscles. Instead yin puts tendon, ligament, fascia under traction, tissues with little stretch but made more juicy by practice. Read more about yin yoga.
This class is not for everyone: the over stiff, the over-flexible (hypermobility), the can't-be-still – there are other classes for you. But for people (probably) with yoga experience who want to stay in pose for the ooph of stretching and being with breath and body and get their dynamic practice elsewhere (or not at all)….food after.
Introduction to Yin Yoga
mini-workshop
Wednesday 13th December
7-9pm
£15 includes post-class soup
existing students: just tell me you are coming and pay to confirm
new folk: please complete the booking form