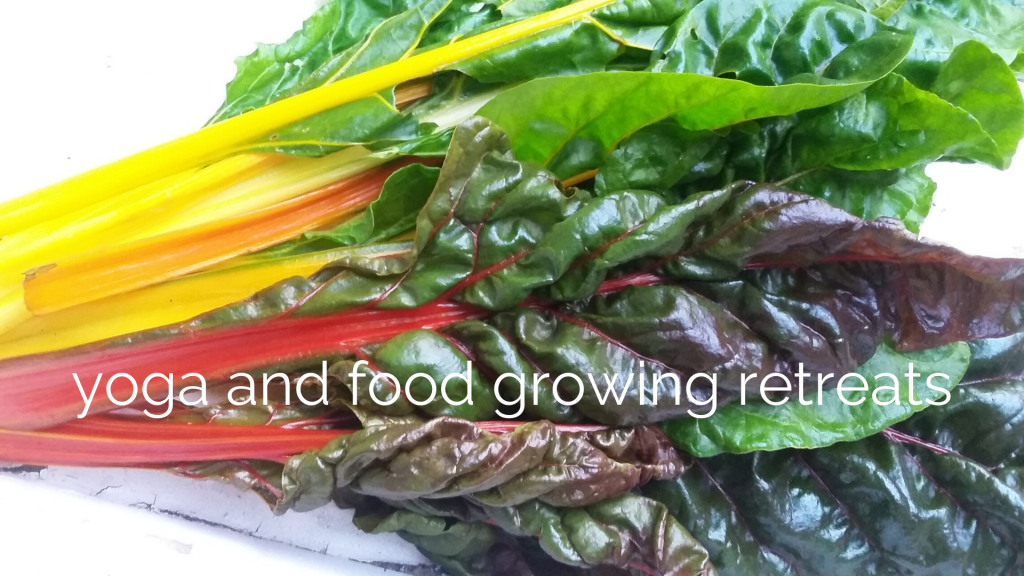 Re-ground yourself with one of the yoga and food growing retreats this summer at Viveka Gardens
In the Joy of Germination (short blog)  I describe how yoga and food growing come together. I never met anyone who wasn't delighted by seeds coming up, even my vegan organic mentor Tolly with over forty seasons of growing. With the seed something magic happens. There's new life. The life force is irrepressible. It is good to be reminded, and feel its movement.
The metaphors of sowing, growth, tending, harvest, pruning for better fruitfulness, putting down roots, healthy soil, flowering, fruiting, dormancy, withering, seasons of our lives…all this invites reflection and understanding. Yoga promotes self-awareness too. Yoga and food growing retreats bring it all together.
With comfortable but simple accommodation, vegan soulfood and experienced teaching this is a lovely place to relax and re-ground. Come to one of the programmed retreats (right) or consider a bespoke retreat for you, with a partner family or friends.
See the May newsletter for LOADS of images to visualise yourself here
"A wonderful yoga retreat in a quiet corner of Devon. Fiona teaches yin yoga and hatha yoga from the heart, and can tell you lots about sustainable food growing too. The farm is a lovely place, away from it all – as soon as you walk in you relax. Warmly recommended" 🕉
Esther
"A little slice of paradise, we loved it. Amazing venue, we even discovered our horticultural abilities, and the Yoga and the vegan food were excellent. We will definitely be back. Thanks so much Fiona for a wonderful day and the introduction to Yin Yoga" Roberto
"It's my third retreat here now I think! I love Viveka Gardens and whether it's a yoga teachers' retreat, or a general retreat, it's just what I need to recharge my batteries, connect with people, and immerse myself in my yoga practice. Beautiful space, great food and atmosphere" Camilla
Gentle yoga includes breathing exercises, movement, going towards holding of classical yoga postures and a lot of lying down! The sessions are formulated for folk with chronic conditions, stress, long covid and recuperation. You will be encouraged to listen to your body and do what is right for you, and adaptations will be suggested. Please be in touch to arrange a chat about your needs and wants.
Yoga & Food Growing 2021

July 30 – August 1st (full)

3-day-2-night £295

September 24th – 27th

4-day-3-night £375

Extra nights possible, maybe with a bespoke programme for you
Schedule

Day 1

arrival from 2.30pm

4.00 yoga class

6pm Dinner

Tour of Viveka Gardens

8pm group meditation (optional)

Day 2 and 3

7.00 group meditation (optional)

7.30 light breakfast

10.00 Gentle Yoga Class

11.30 tea and snack

Food growing workshop or rest

1 lunch

Tasks in the garden or rest

4pm Yoga class

6pm Dinner

8pm group meditation or yoga nidra or walk or firepit (group decides)

Final Day

7.00 group meditation (optional)

7.30 light breakfast

10.00 Gentle Yoga Class

11.30 tea and snack

12.00 closing circle and departure