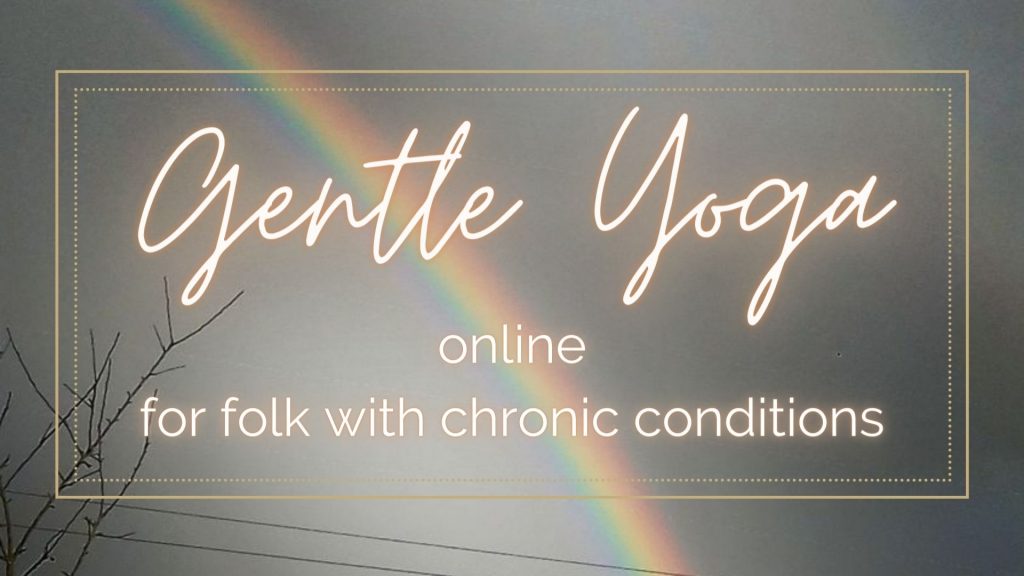 **Autumn term starts 12th September**
This gentle yoga class is for people with chronic autoimmune conditions, weight issues, long covid or anyone that has a difficult relationship with their body through physical pain, limited movement, or fatigue.
The benefits may be: sense of relaxation, sense of being more connected, calm, clarity, increased range of movement, increased confidence, slow building of strength, improved digestion, better vitality.
With gentle movements, breath awareness, and building to holding in adapted versions of classic yoga postures (asana) and trying classic breathing techniques (pranayama), we'll ease into yoga and its time-tested gift of letting go.
Have a look at this explanation and tutorial on the yogic breath, a core technique for our sessions
And with kind and patient guidance in case of brainfog and co-ordination issues, these sessions are at your pace. You never have to do anything I say and will be guided toward the engagement that suits you on the day. You'll be invited extend, stay where you are or go back to resting. These gentle yoga techniques are ones you can take into your own practice and everyday life.
Each session ends with a 20-minute guided lying down meditation (yoga nidra) for deep relaxation and personal insight.
People with these conditions, among others, might benefit: fibromyalgia, IBS, Crohn's, PCOS, endometriosis, rheumatoid arthritis, sleep apnoea, CFS, ME, post-viral fatigue, PTSD (though no substitute for therapy), chronic back tension, chronic headache, diabetes.
A lovely community has developed and we may look at a retreat specifically for us (but also see Yoga and Food Growing Retreats)
If you are new to classes with Fiona please follow the ticket link to book a pre-class consultation* and complete a health questionnaire. Otherwise, please message or email to arrange.
By now most people are familiar with the benefits of yoga, even if they have not been to a class. Increased flexibility and strength, stress reduction, improved sleep and a mindful, more relaxed outlook are some results of a regular class. However, there can be a few physical barriers: just the thought of getting up and down onto the floor, being too stiff in the body, injuries and ongoing conditions such as arthritis, for instance. That's why specifically gentle yoga for chronic conditions is ideal.
I am a yoga teacher of long experience and know ways to adapt yoga for everyone. 'Kind' and 'intuitive' are common comments about holding space.
Fiona has long experience of teaching classical hatha yoga and meditation (since 2001) and has trained in the associated techniques of yin yoga, yoga nidra and restorative yoga, as well as yoga for hypermobility, trauma-informed yoga and techniques for Long Covid.
Some of the comments from this group benefiting from a rare kind of gentle class
I love how I feel afterwards and the following day
it's gentle but still challenging, which I enjoy
it's so great to renew my relationship with my body
most of the time I can do it which makes me feel a lot happier about myself
I've never really relaxed like this before
I do sleep better
I sleep really well after
I love the nidra at the end
it slows down my mind
my neck and shoulder pain are transformed
I've really appreciated getting to know my body and mind again
linking belly breath and movement is mindful
I give myself a bit of love with the yoga sessions
Well worth it.As a Rheumatoid Arthritis and Fibromyalgia sufferer I have found Fiona's weekly Gentle Yoga for people with Chronic Conditions and her monthly Yoga Nidra a Godsend. She is so understanding when I am too tired or in pain to do a movement, and always offers alternative versions of patterns to suit different bodies. I can even just lie down and rest, and the nidra meditation at the end leaves me in a state of relaxation that I do not feel at other times of the week. Thank you Fiona for a chance to join in. Sally, Belstone
I loved the class last week and it is exactly what I require right now. Physically, the class really helped me to sleep so well and my tense "computer" neck has certainly improved. I remind myself at work to take a break and on occasion I have stretched as well. (When I was on my own in the office)! I have found the breathing exercise incredibly helpful during the week. Work has been hectic, as the Covid crisis continues to impact on the services we can and cannot provide. Whenever, i felt overwhelmed, I practiced the breathing and i started to calm down. Margaret, Cork
As a qualified yoga teacher myself, you might imagine that I might be looking for an advanced class where myself and others could push our limits, do crazy postures, and twist ourselves up like the pretzel shapes that you see on Instagram. As a busy primary school teacher and endometriosis sufferer, however, that is not necessarily the case. Due to my endometriosis, I now have to be really careful not to do too much sometimes, and to be gentle with myself. I managed to do one of the gentle yoga sessions even during a flare up, something which has never been possible before. As someone who loves yoga, I am happy that I can adapt my practise to suit me, and join in with a class, even when I am not feeling great. It's opened up new possibilities for me. I finish the class feeling relaxed, yet re-energised. Most importantly, I still feel great the next day. Thank you Fiona Cam, Buckfastleigh
I slept ten hours last night. Thanks so much! (Gentle Yoga online with yoga nidra) M, Tiverton
I have been following Fiona's Gentle Yoga online for over a year. I really prefer online as feel more comfortable in my own home as well as feeling part of a group up on the screen. The movements and pace are right for me and my condition and I always feel more flexible and relaxed afterwards. The nidra is wonderful, Fiona's voice is just sublime. My cats also love it!! A, Hatherleigh
I would strongly recommend Fiona's Gentle Yoga class to anyone who has chronic pain or joint problems. Or who is a bit stiff and creaky, and needs to regain that ease and softness of movement that we often lose in middle age. (That's me!) The pace and feel of the classes is just right – it's encouraging, and we do try new things- but there's also a comforting feeling of community. The nidra relaxation at the end is so good, I always sleep very well on Tuesday nights! Because it's on Zoom I don't have to go far…just to the spare room, with a pillow, a mat and a cosy blanket. A, Chulmleigh
*ONLINE via Zoom*
£54 for six sessions over two months or £12 drop in
£5 if on low income
The first class is free with no obligation so you can gauge the benefits to you if you are new to sessions with Fiona. Please be in touch if you are on benefit or no income for a bursary place.
Welcome! I'm looking forward to working with you, Fiona
Contact me with any questions but otherwise go straight to…
New Student PRE-CLASS CONSULTATION
A pre-class consultation (15 minutes) not only gives you a chance to explain your needs, wants and any health conditions, but also helps establish rapport between us. In addition, it is an insurance requirement for online sessions.
90-minute sessions allow for learning techniques that you can take away at home, as well as the experience of peace and relaxation of mind-body-spirit, the essence of yoga.
For the class you will need:
a yoga mat – not essential immediately but in due course a simple, cheap but good enough one can be got for £5 from Tesco, for instance, but if you can invest a bit more that is good
a few cushions and great if you also have a firm meditation cushion
a blanket or two for rolling up to support your knees and for final lying down relaxation
laptop or other device with camera, microphone and speakers
stable internet connection though zoom seems to cope fine with lowish capacity
It's best not to eat for a couple of hours before class, but have some fruit juice perhaps if you have blood sugar issues. It's usual to feel very chilled and floaty after a class, so some warm tea or fruit before bed can be ok, or you might just go to bed.