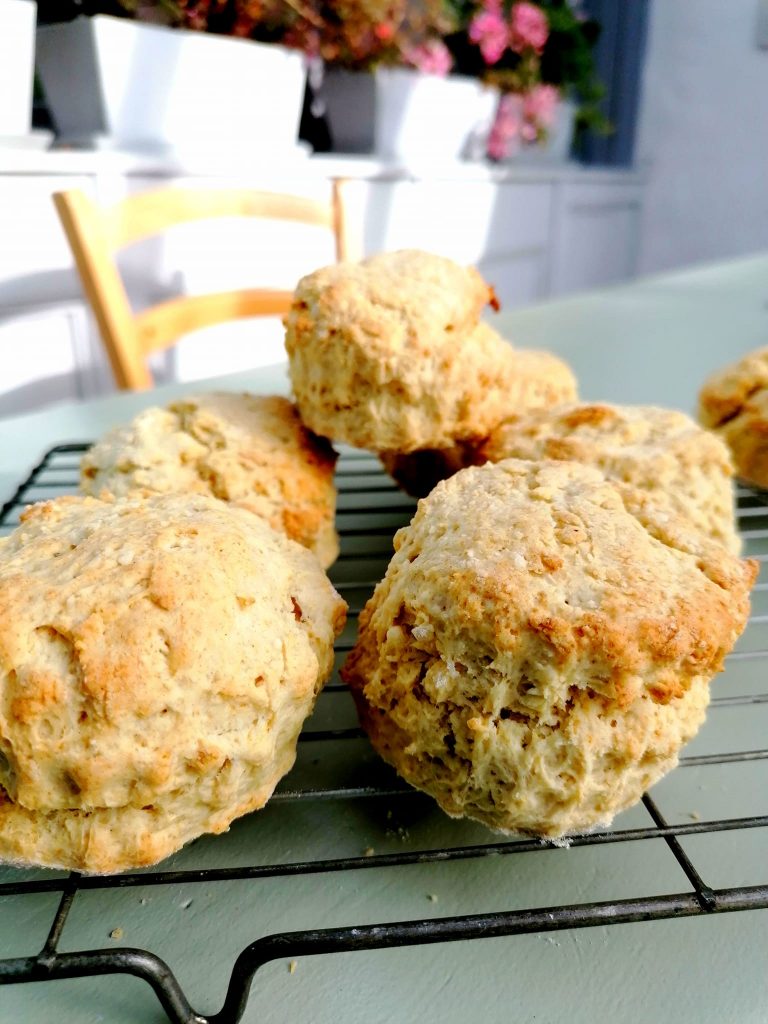 It feels a bit of a cheat to put a scones recipe as it's hardly difficult to veganise, but this is slightly elevated by sugar and vanilla extract – not a feature in the Scottish roots scones I was brought up on.
These are a much enjoyed feature of teatime on retreat.
Tips for tall scones: warm milk, handle the dough as little as possible, 4cm deep, warm the baking tray, use a smooth not crinkled cutter, get in the oven asap. Oatly whippable, for example, is creamy but would probably have to go on second as it is light (horror, and don't tell the neighbours). If you want extra fat, I guess you can have vegan butter too.
Ingredients makes 8 plus 1 'miscreant', using a 5cm diameter cutter
350g self-raising flour plus more for dusting
1 tsp baking powder
pinch of salt
85g vegan butter, cut into cubes marg will also do
3 tbsp caster sugar
175ml milk oat or soya at room temperature
1 tsp vanilla extract optional
squeeze lemon juice
Method
Heat the oven to 220C/200C fan/gas 7
Mix the flour, salt and the baking powder in a bowl
Rub in the butter and stir in the sugar
Add a squeeze of lemon juice to the milk and vanilla if using
Put a baking tray in the oven warming it will help the scones rise. Make a well in the dry mix, then add the milk and combine fully but as lightly as possible using a cutlery knife. Gather all the crumbs into the dough but try not to overwork it then tip it onto a dusted board.
Gently pat it out about 4cm deep, cut four, recombine to cut another four and you'll have enough left over for balling up into what I call the miscreant (cook's perk).
Place them on the baking tray and bake for 10 minutes, then cool on a wire tray for about 3 minutes before the troops dive in!