Parsley has such a fresh chlorophyll yet earthy taste that just feels like it's doing you good. And it is: very high in vitamin C it's a great food for blood vessel health and general infection combatting at winter time. Get a good big bunch from a mediterranean or Asian shop, or grow it yourself. Here at VG we always grow it and it overwinters brilliantly. It bolts come spring but before then there's a whole new flush of it while you're waiting for this new season's seedlings to get going (start them in January, parsley is notoriously fickle at germinating: soak the seeds first and be patient).
In ayurveda its quality is cooling, while the tahini on the chick peas is very heating, so we go for balance. As you know, mix a pulse with a grain and you have a meal with all the amino acids for full protein intake. Buckwheat is not actually a grain, but a seed from a completely different family to wheat etc, and so is gluten-free, but starchy and deliciously satisfying. See Beetroot Soup for how to do the tahini chickpeas.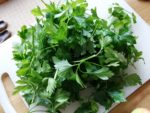 Ingredients serves 6
200g buckwheat (you can get or buy toasted, but I think it's fine au naturel)
water: twice the volume of buckwheat
one big bunch of parsley leaves (keep the stems to add to a hungry gap or tuscan bean soup)
two tbsp olive oil
one tbsp lemon juice
seasalt and ground pepper to taste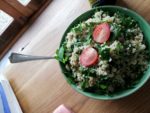 Method
put buckwheat and water in a pan with a close-fitting lid on a low flame until grain absorbs all the water, about 30 minutes. Try not to stir it. Leave it to rest for 5 – 10 minutes.
you'll have already prepared the chickpeas and may be finishing their 90-minute or so boiling while you cook the buckwheat. It's nice to serve both chickpeas still warm soaking up their tahini and the buckwheat soaking up its dressing, also warm, together. Flavours abound.
meanwhile wash and roughly chop the parsley
prepare the dressing: mix the oil, lemon juice and underestimate the seasoning – you can add more later
Put the buckwheat in a bowl and while still warm stir in the dressing, then parsley. Adjust seasoning
Serve in individual bowls with a serving of chickpeas and possibly a tomato garnish (they don't have to look like mystical eyes)…and in fact I cheat here as this is a version made with quinoa.