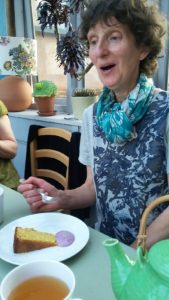 This vegan and gluten free lemon polenta cake is really wonderful with summer berries and a soya or cashew cream. I also served it out of berry season with blackcurrant jam mixed with vanilla soya yoghurt. As you can see, Emma who was here to stay found it super tasty. 'Well-balanced' was another comment on this particular combo.
You may have to source the ingredients especially but it really is an easy cake. You can make it quickly and get to remember the recipe so it's easy to do again and again. What's more, the flours used are proteinaceaous, especially in combination: gram, which is chickpea flour, polenta, which is maize flour and ground almonds. This could make a balanced meal together with a light or salady main course that doesn't have hard proteins. Have your cake and eat it!
Ingredients (for 8 – 10 servings – that's two each, then)
120g polenta
80g ground almonds
100g gram flour
zest and juice of two lemons take care not to zest into the white pith as it is bitter
1tsp bicarbonate of soda
100ml olive oil
100ml agave syrup
100ml soya yoghurt
Method
prepare a 20cm cake tin (oil or use vegan marg and lightly dust with flour) spring release is helpful but not essesntial
Pre-heat the oven to 170 degrees or gas mark 3
mix the polenta, gram, almonds and bicarb, and stir though the lemon zest
in a pyrex jug use the hand bender to mix the oil, lemon juice, agave and yoghurt
slowly add the liquid to a well in the middle of the flours, mixing but not over beating
bake for 30 – 35 minutes, til firm and golden. You can also test with a skewer (if you have one): push it in and if it comes out clean the cake is done.
you can substitute other citrus – oranges, blood oranges in season (Feb) or limes