Online Yoga Classes
New to classes with Fiona? Please click on the blue button to complete a new student form and arrange a call or zoom session for a pre-class consultation. This not only gives you a chance to explain your needs, wants and any health conditions, but also helps establish rapport between us. In addition, it is an insurance requirement for online sessions.
Schedule
MONDAYS 
7.00 – 8.30pm  Gentle Yoga

TUESDAYS
10 – 11.30am Traditional Hatha (gentler)
7.00 – 8.30 pm Traditional Hatha (strong)

WEDNESDAYS
group meditation & circle – info

THURSDAYS
Available for 1-1s and private small groups. Contact me for other times too

FRIDAYS
9.30 – 11.00 Traditional Hatha (medium)

£48 for 6 class card to use within 2 calendar months (mid and end-term breaks not-withstanding); £10 drop-in
The studio at Viveka Gardens may be empty but students are loving their online yoga classes. See here for their feedback.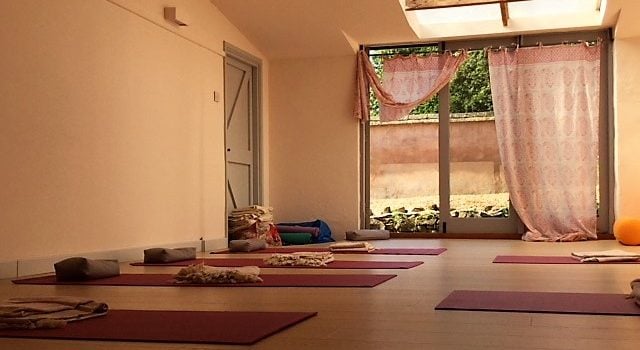 Some other nice comments: testimonials from students, workshop participants and retreatants
Online Yin and Nidra workshops
CLASS DESCRIPTIONS
Traditional Hatha Class 
– 90 minute class
– for people who have with yoga experience and/or good fitness and mobility
What to expect Classes are facilitated in the Sivananda hatha yoga tradition with a concluding relaxation (savasana). You can expect to work physically hard in a moderate way. You will be encouraged to listen to your body to know how far you can go on the day. The session includes savasana (lying down) between postures, and focus on the breath. The classes are suitable for different levels of experience and mobility through more/less testing variations and longer/shorter holding.
The practice class consists of:
pranayama (breathing exercises)
surya namaskar (sun salutation)
asana (yoga postures) which are held
final relaxation
[/one_half] Gentle Class 
– 90 minute class
– for people who have with less or no yoga experience or rusty, lower level of fitness/mobility
What to expect Gentle yoga moves with awareness of the breath and gradual building towards holding of classic postures. You will develop flexibility, strength. You'll experience relaxation and learn better how to observe and calm yourself. As you develop confidence in the techniques you may want to try the stronger Traditional Hatha sessions. Read more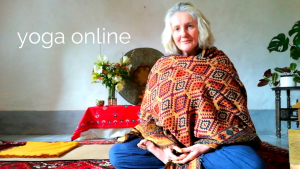 HOW IT WORKS
       NEW STUDENT        Pre-Class Consultation
complete the form and choose a time for your pre-class consultation via the blue button
have your consultation with Fiona who will send payment info and zoom link
please feel free to arrive to class up to 10 minutes early for a bit of community chat and/or go straight to lying in savasana
TIPS
ensure your device is fully charged and in airplane mode, or close apps with notification bings
set your device in landscape orientation facing the long side of your mat about 2m away
get the cooperation of family and pets to leave you undisturbed
have your mat, cushion and blanket ready
wear leggings or trackies with an elasticated waist
warm top and socks to put on for relaxation
best not to eat for two hours beforehand but if you have energy issues some fruit juice would be ok
ONE TO ONE SESSIONS If you are just starting yoga, private tuition will give you the best start you can possibly have… and if you are a long term practitioner this approach will give you fresh inspiration and insight into your practice. For older, stiff or recuperating people very gentle exercises bring fresh flexibility and vitality
Info on 1-1 and small group sessions
Read a little bit about Fiona, the teacher, and the approach.
Questions? Contact Fiona