Sizzle! In this recipe the spices are fried in oil at a high heat and added in a dash at the end of cooking the dhal. This is a template for making a simple, wholesome, kind of all-in-one protein-packed curry in just about an hour. You can substitute yellow split mung dhal, toor dhal or channa dhal, none of which need soaking. I like to soak green mung though they say it isn't needed and the beans hardly swell overnight. I do think it will reduce cooking time and make for easier digestion, however. Experiment with different veg, aiming for a range of colour and texture. Serve with rice and salad with oil and lemon dressing.
Ingredients serves 5-6
250g green mung beans soaked overnight
775g mixed chopped veg, eg sweet potato, celery, carrots, dwarf beans…as much or as little as you want/have
2L water and later a kettle of boiled water you may decide to top up depending on how soupiness required
1.5tsp turmeric powder
2tblsp vegetable oil
1 tsp black mustard seeds
1 tsp cumin seeds
50g fresh ginger peeled and grated
1 tsp cumin powder
1 tsp coriander powder
1/4 tsp clove powder
1/2tsp milled black pepper
1 small green chili or 1/4 tsp chili flakes
half a bunch of coriander leaf chopped
juice one lemon
1tsp salt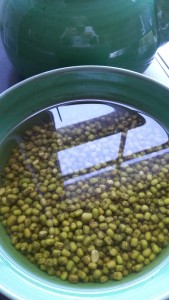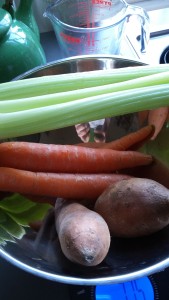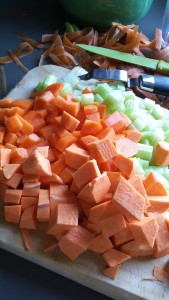 Method
Drain the beans and put in a large pan with the water. Bring to the boil for ten minutes, scooping off foam with a slotted spoon. Add the turmeric, stirring in.
Add in the veg and bring back to the boil.
Half cover and lower to a simmer for 45 – 60 minutes til beans are soft and squishy. Stir it about so it goes softer and creamier.
Put the oil, black mustard and cumin seeds in a small, heavy bottomed frying pan
Heat on a high heat til the seed just begin to pop. Add in the ginger. Stir. Add in the remaining powdered/milled spices and allow it to get pretty hot and spitty.
Dump this into the boiled dhal and lightly stir in. You may want to swill out the pan with some curry so as not to waste any fragrant oil and seeds. Put the lid on fully as soon as you can and turn off the heat.
Finish getting the other parts of the meal ready so that the dhal has 5 minutes or more to rest.
Stir in the coriander, lemon and salt.