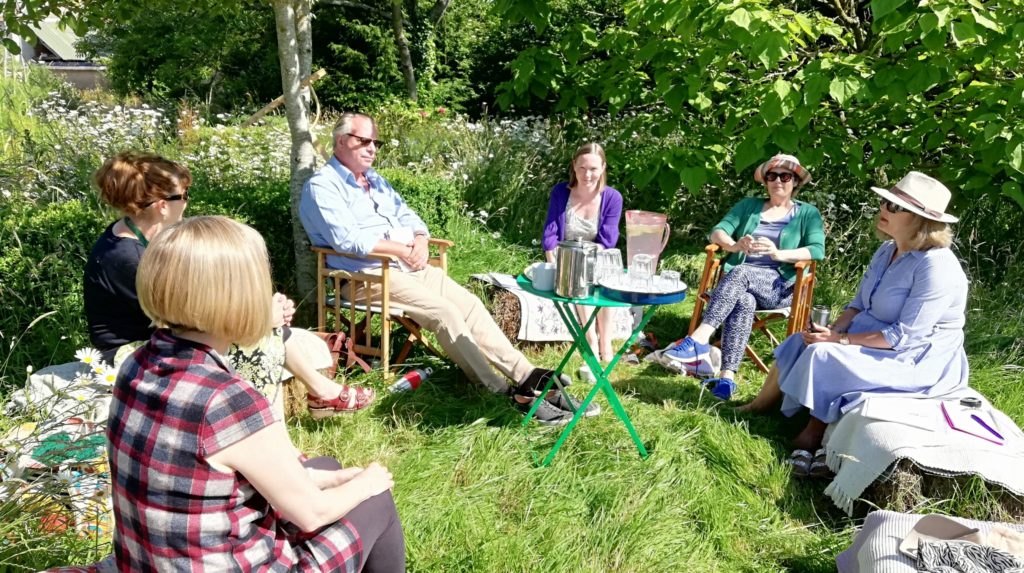 Welcome to Viveka Gardens meeting venue, a place where your team can relax, reflect and let the creative juices flow. VG is a retreat place, peaceful, simple and in nature. Fiona is the owner and teacher here, and your host.
Meet long table space, on sofas, in the garden, orchard or on the land
Eat delicious home-cooked vegan meals, with local and homegrown produce in season, round the table together
Be in nature ornamental garden with lawn areas for sitting, orchard, walled kitchen garden, paddock, six-acre field and small wood: ideal for post-prandial stroll or break out sessions
Stay two shared sleeping areas each for up to six people, the Bliss Barn and the Shanti Loft
Relax yoga studio; Fiona is an experienced facilitator of yoga and meditation
'We had our 2019 staff retreat at Viveka Gardens, and to date it was the best one we have had. The simplicity and the comfort of the space meant that we could focus our energy on our planning and thinking, knowing that our food was being prepared for us and we had yoga and relaxation to look forward to. Fiona is a compassionate host and looked after us so well. We came away energised and alert to what we needed to do going forwards. An absolute joy to spend time in touch with nature and ourselves' Sara Bennett, CEO Balloons Charity for bereaved families
Arriving here Viveka Gardens is in a rural area reached via lanes. It is situated in the hamlet of West Leigh, equidistant between the market towns of Crediton and Okehampton in Devon, each 12 miles away. In line with local policy on tourism and carbon reduction, car sharing and use of public transport are encouraged. Best arrival point via train is Morchard Road, a 20 minute journey from Exeter. Arrival by bicycle also welcome. See the contact page
A gracious welcome in a natural setting: a place where thoughts can flow. It is such a peaceful place to be: to gather & reflect, look forward & worship together.
Diana, lay worship leader
I thoroughly enjoyed our Quiet Day at Viveka gardens, the welcome was warm and it felt a bit like a combination of coming to visit the home of an old friend, a deep exhalation of breath and a feeling of tranquillity. Rev Marc Kerslake
Our day away at Viveka Gardens was a very happy experience and I look forward to sharing another in the near future. Lesley, Seedlings gathered community
Food Vegan meals are catered by Fiona (Food Safety Certificate) and generally considered 'delicious'. We can cater for gluten-free. Please inform us with a summary of any other allergies via the booking form. Food Safety registered with Mid Devon Council.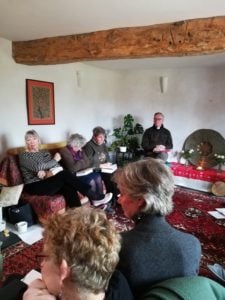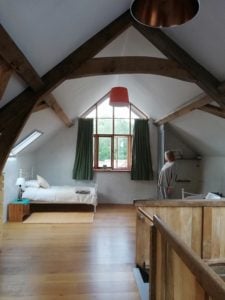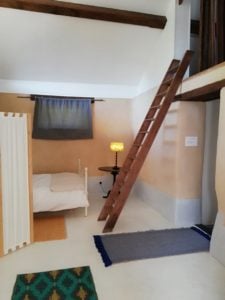 A beautiful, calm and relaxed space. Delicious food (especially the lemon shortbread and shepherdess pie!) and the yoga was intuitive to the team's needs. The spaces for our morning and afternoon meetings were perfect. The accommodation has a cool, peaceful and simple design. My bed was really comfortable and the sleeping area had a positive vibe. Liz, Counsellor Balloons Charity
Day rate

£27.50pp

includes morning coffee, lunch, afternoon tea and use of any of the spaces

minimum £110 4 people, reduced rates after 6 people

B&B £55pppn
includes evening meal

Yoga session £55
group, 90 minutes