Vegan Souper Soup in many varieties is a key feature after classes and in workshops here at VG. This one is a winter warmer uber-comfort food which is inexpensive when cauliflower is in season and because split yellow peas are readily available in supermarkets and wholefood shops. An organic cauli* costs maybe £1.50 and the amount of peas here 50p. Investing in the spices will cost £4 especially if you head for an ethnic supermarket and these will serve you for other Viveka Gardens dishes.
Parsley is a real treat – the taste, the greenness, the high vitamin C content – and well worth growing as it will soldier on through the winter with no problem in the ground or in a pot. You can get a pot from the supermarket, cut the tops off to eat and plant out the plants. They do well. Sow it in spring and again in summer for plants that last. Having a starch with dhal supports a diet with the full range of amino acid to form complete proteing, important in a vegan diet.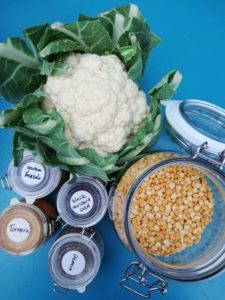 *Most veg are subject to pesticide if not grown organically. Cauli and celery (also used in the recipe) are some of the veg most heavily sprayed.
Ingredients (for 6) 
300g split yellow peas aka chana dhal
1 medium cauliflower
four sticks celery
half a tsp black mustard seed
2tsp cumin seeds
ginger, about a 5cm cubed piece peeled and grated on the big grate
3tsp garam masala
2tsp turmeric
3 tbsp coconut or sunflower oil
a kettle of boiling water
1.5kg floury potatoes such as King Edwards
as large a bunch of parsley as you like, curly or flat
salt and pepper
Method
rinse the dhal and place in a large pan with c 2L of water. Bring to the boil for 10 minutes then skim off any foam. Add the turmeric and simmer. The dhal takes about 50 minutes in total to cook so…
prepare the cauliflower: cut into florets and the stem cut into 1cm cubes. Rinse
prepare the celery: cut off the rough ends, wash and cut into 1cm pieces
scrub the potatoes and cut into even pieces, say quarters and make the mash. Add the salt and pepper and roughly chopped parsley
in another large-ish pan heat the oil with the mustard seeds and cumin seeds til they pop – really quite hot
add the ginger, stir and after 20 seconds or so (before it scorches) add the cauli and celery. Stir the oil and seeds all over the veg and allow it to heat up. Add the garam masala, coating the veg, and a few good grinds of black pepper
40 minutes in to cooking time check the dhal: take out a piece and nibble it. It should be al dente.
add the veg to the dhal or so and stir in. Add boiling water from the kettle to cover the veg. Decide how thick or thin you want it. Let it cook together for ten minutes and add salt to taste.
blend roughly
place in bowls and add a dollop of mash on top
Bon vegan appetit and join us for the annual vegan drive to support going vegan, Veganuary with this Veganuary Cooking Workshop on 25th January 2020 , ideal for people daunted by cooking from scratch, anyone wanting to widen their vegan repertoire, know about cooking beans and pulses, get some nutrition advice. Also, anyone hungry.