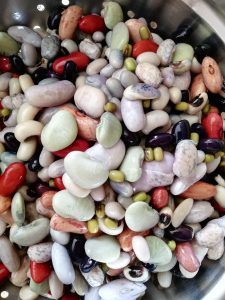 I'm trying to eat more protein and fewer carbs, and doing more fitness to keep muscle up. I eat pulses anyway, but this bean salad feels extra proteinaceous.
This salad is an old favourite – I love the way the beans are like colourful pebbles – and to serve it with quinoa (17% protein, a seed rather than a grain) gives complete protein.
Parsley is choc-full of vitamin C and has a great taste. I can't get enough. If you don't have a garden or haven't sown parsley this season, here is a great hack that will ensure an abundance of this green nutritional gold year round. Once you've cut the leaves from your supermarket pot, water well and leave in good light. Once the plants have re-sprouted and are robust enough to handle, empty them from the pot and tease out the individual plants. Plant in your bed or window box or pot with a general purpose compost. Keep watering and they will thrive through the rest of the year, giving you great immune-boosting joy through the winter til April May when they will start to bolt. Bolting is when the plant starts to get tall and show flowers. Pollinators will love these and you'll get a harvest of seed, so you can let that happen or put it on the compost and start again. You can have posh flat leaf but old-fashioned curly is really nice too.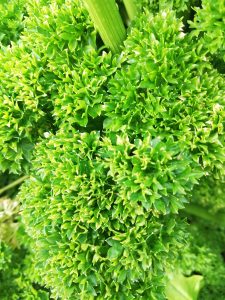 Ingredients (serves 4)
250g bean mix (this is Waitrose's 10 Bean mix including mung, turtle, lima, haricot, aduki and more)
piece of kombu seaweed (this is a nice one you can usually get in healthfood shops) – not essential but helps the beans soften pre and during cooking and adds a non-specific amount of iodine, good for vegans
good glug of olive oil, juice of a medium lemon, seasalt and ground black pepper
big handful of parsley, chopped
To serve with:
1 cup quinoa with two cups water on lowest heat in pan with close fitting lid til water absorbed and fluffy. Don't stir or boil.
tomato and cucumber salad, green salad
Method
soak beans with more than twice the water to cover and the kombu piece overnight
drain, add fresh water and bring to boil for 10 minutes, then turn to a simmer
when a bean is squishy but not all soupy, try from 45 minutes on, then drain
while still watery add on the dressing, let it cool and then add chopped parsley