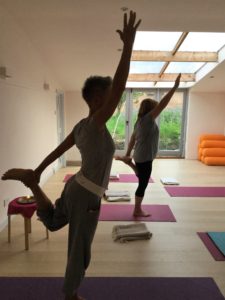 Yoga exercise is marvellously adaptogenic, that is to say the practice will meet your level of flexibility, strength, fitness or mobility. Each body is different and even in one body you may find some quirks such as open hips but very tight hamstrings. But the good news is that overweight, stiff, rusty people and those
The great thing about yoga is that it is not competitive. It can be seen as a practice in self-acceptance and delight in what the body can do.  Often people say, I can't do yoga, I'm not flexible enough. Well, would you like to gain flexibility? Come to yoga! Practice is a key word, simply having a go. Even I, with 20 years of regular practice, am simply 'having a go' when I get to the mat. By coming to classes and learning some techniques you can also practice at home, you will be greatly encouraged by the changes you observe.
Even if you are able and experienced, there can always be further challenges and so yoga develops mental resilience and a stronger nervous system. These aspects of the original purpose of hatha yoga are often ignored: to train the body to sit still in meditation so it can be transcended. So for fit and healthy people longer holding of poses and more advanced variations develop staying power. Improved mental health or, in yoga terms, equanimity, is a benefit for all.
The Unique Benefits of Yoga Exercise
Once you get the hang of techniques, the class is practiced with the eyes closed, so though you benefit from the energy of the group, it is basically an interior practice. With the use of the yogic breath your nervous and hormone systems can properly relax. Ongoing raised cortisol, the stress hormone, can have negative effects on weight, immune function, and chronic disease risk, such as heart disease or rheumatoid arthritis. Who'd have thought breathing could improve your health?!
One-to-ones and Bespoke small groups
I run gentle, traditional hatha yoga (stronger), mens' and mixed ability classes in different venues in Mid and West Devon, including Viveka Gardens Yoga Farm between North Tawton and Winkleigh. One-to-ones are a great way to address your particular needs and get you feeling confident to join a class. I am a long experienced teacher in the Sivananda tradition, used to facilitating sessions of groups with different levels of experience, and a registered Senior Teacher with Yoga Alliance Professionals. Fiona Law