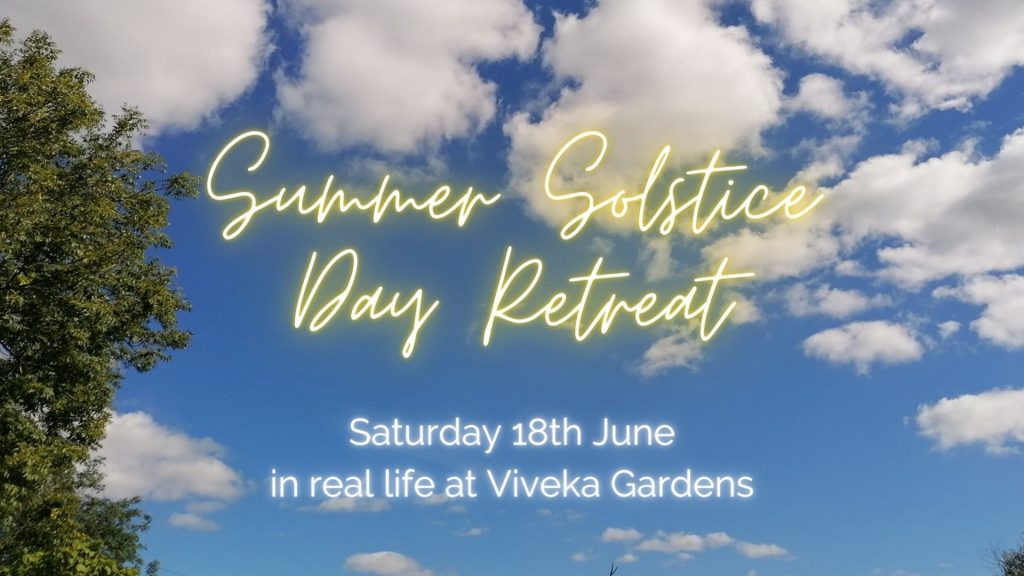 At Summer Solstice the year is poised, the sun appearing to stand still at its high point. It's a threshold moment and a chance to take stock: where are we up to and what is our heart's prayer for the next stage?
With restorative yoga, yoga nidra, journalling, circle and meditation walk and maybe a small gardening activity in the kitchen garden we'll rest, reflect and ground ourselves.
And vegan lunch made from produce in the garden.
Stay overnight?
It is possible to stay Friday night when you can also participate in a yoga nidra that Fiona will be sharing online (you can do in real life 7 – 8.30) and/or the Saturday night to make a mini-retreat.
For the day you will need:
notebook and pen
eye pillow or scarf to cover your eyes (optional)
sturdy shoes/boots for walking over rough fields
rainwear/sunhat
Fiona is a trained and experienced facilitator of restorative and nidra. Based at her Viveka Gardens Retreat Place in Mid Devon, she brings nature and season-based visualisations to nidra.
Blessed be you Creator of All Life
I see your splendour in the sheen of sun on water
Your lustre on the earth, your sheer transparency in air.
Light the texture of my life with your glory today
Tess Ward from Canticle of Midsummer
Sign up to the newsletter to be sure of knowing about events
Feedback from previous Retreat days
I loved the Gentle Retreat Day, linked with a grounded connection with nature. I particularly enjoyed the meditation walk and guided yoga nidra session where I felt light, centred and peaceful – can't wait to practise more!  Elizabeth, Chulmleigh
I found the Gentle Yoga Day Retreat at Viveka Gardens a really inspiring and enjoyable day. As I had hoped, it was a great introduction/reminder of the benefits of practising yoga but also provided a fascinating historical context which will definitely enhance my practice. The meditation walk around the fields at Viveka Farm on such a beautifully sunny day was truly enchanting and the Yoga Nidra was relaxing beyond description! As well as being an inspiring and encouraging teacher, Fiona's extensive knowledge and experience of yoga provided many valuable insights into both theory and practice.
And the food was amazing! Lesley, Morchard Bishop
A day might not seem like a long time but it only takes a moment for things change in your life. At Viveka Gardens Fiona cultivates in some magical a way a quiet day where these moments of importance and change seem to be pulled out of your heart and gently presented to you. It was a peacefully emotional day, a day which I feel will be very important to me. Also, the food was an unbelievably delicious, healthy vegan feast.  Helen, Manchester
Viveka Gardens provides the perfect sanctuary. It is brimming with the sights and sounds of nature which you can soak up helping in Fiona's garden or going for a scenic stroll in the woods. I have been truly spoint by the tasty vegan dishes daily which luckily include fresh fruit and veg from her garden!  I wholeheartedly recommend the Quiet Day Retreat. Fiona has a gift for holding a safe, warm and supportive space in which to delve into some inner work. Her yin yoga and yoga nidra practices are beautifully guided and held, and have given me clarity and healing.  Abbi, London
Saturday June 18th 2022
10.30 – 4.30pm arrival from 10.15
£70
includes vegan lunch, teas and afternoon snack
overnight stay, dinner, breakfast £50
Viveka Gardens is keen to make yoga available to all – bursaries for those on benefit/low income Please contact to discuss

How to book
Schedule
10.30 arrival, opening circle
11.00 jounalling – guidance and practice
11.25 restorative yoga and check in
12.45 lunch
1.45 themed meditation walk
3.00 Nidra workshop
4.00 next steps and conclusion
4.30 end