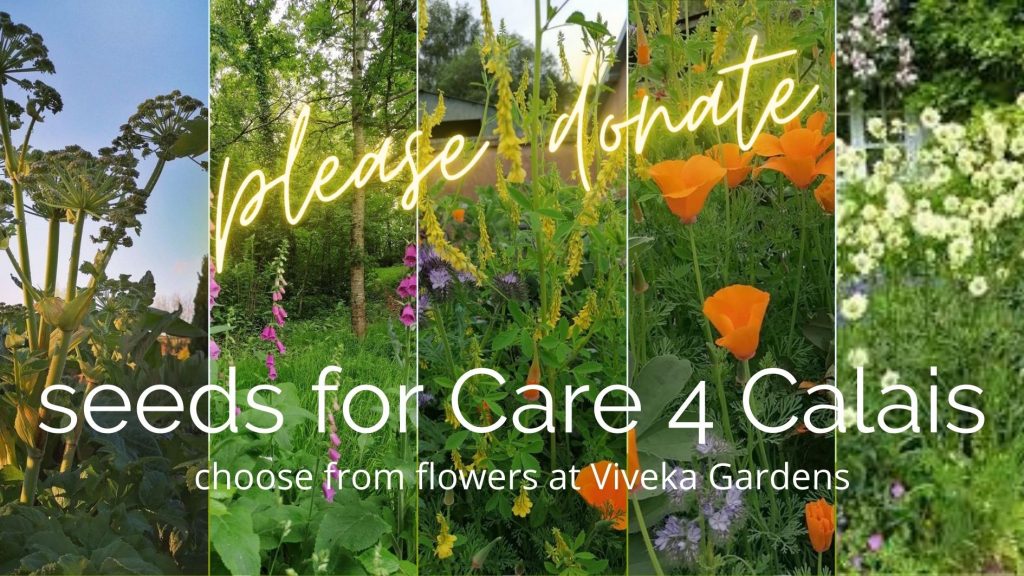 Care 4 Calais are a refugee crisis support charity. They help some of the most marginalised, desperate and long-suffering folk displaced, traumatised by war and famine, typically from Afghanistan, Sudan, Syria. C4C are sincere and hardworking and do what they can to meet the needs by getting clothing and food, and forming relationships. I know because in 2016 I spent a few days volunteering there.
I will send you seeds from some of the nice plants here and you can donate to the fundraiser , suggested minimum £2.50 donation. All these plants are beloved by bees and other pollinators, and self-seed so your garden will be buzzing for years to come. Please fill in this form so I can send seeds to you
left to right
Angelica archangelica Angelica – 2m architectural plant with lime green starbust flowerheads in June. Stands like sentinels (angels) along the path to the front door here at VG. Smells like gin! Stems shoot up in spring. Bi/triennial. More info from RHS website
Digitalis purpurea Foxglove prefers semi-shade and shines in the woodland edge here at VG. Tiny seeds and tiny seedlings that take a bit of nurturing to grow on and then pot on and then put out and then wait for the second year to flower. But totally worth it to switch off by watching bumbles go in and out more info from Gardeners World website
Melilotus officinalis sweet yellow clover. Originally I used this as part of a green manure in a fallow bed, then cleared the bed and brought the metre high stems in to put in a vase. Next day went in the room and the honey smell was divine more info from beehappyplants
Eschscholzia californica California poppy has quality epitomy of zesty orange petals and is such a do-er. Grows any old where
Cephalaria gigantea Moon scabious is a herbaceous perennial (comes up again each year) up to one and a half metres tall and the pale yellow flowers shine out in the dusk and the dawn in June/July (times when I like to moon about), each about 6cm across. Super loved by bees and butterflies and me more info from plewsgardendesign
Also available: Phacelia –  lilac flowered green manure plant with unfurling flowerheads that bees really adore, you can see it at the bottom of the california poppy picture
Seeds supplied in small brown envelopes and posted to you.