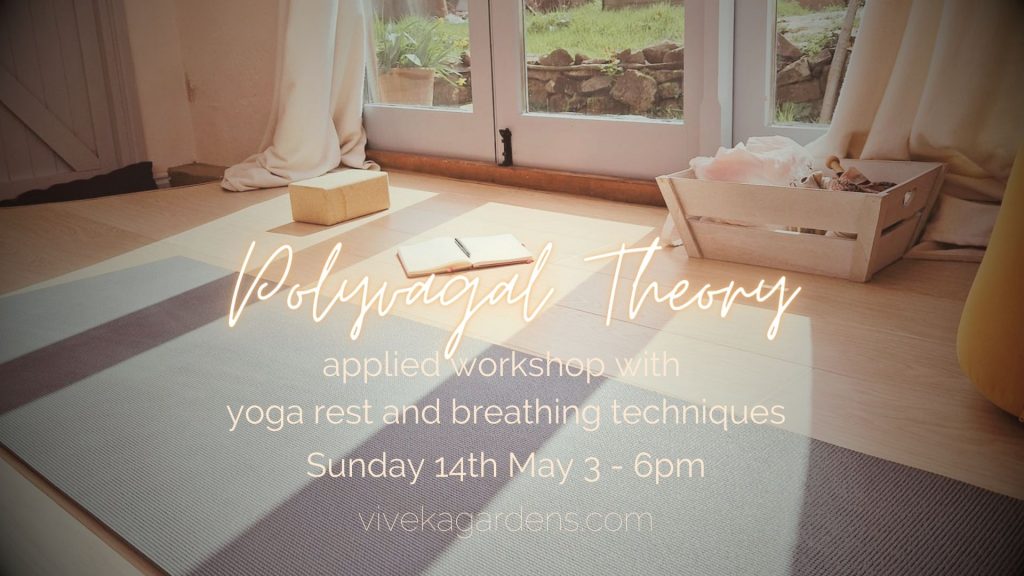 Do you suspect, or know, that long term stress in the past or currently affects your well-being? Do you long for some deep rest and respite?
Recently I had a past trauma triggered. Despite trauma-informed training, reading and personal healing around it, it took me a while to get outside what had come up, and to observe the symptoms in myself. Then there was a whole lot of yoga practice and journalling to get outside it. In the end, I had a release, finally feeling at one again (I also thank prayer here, mine and kind close friends).
Of yoga, Bessel van der Kolk, one of the vagus nerve 'gurus' said, 'more effective for PTSD than any of the drugs we studied'. All this has made me determined to share with others some knowledge filtered through my applied experience and understanding. Here in the studio at Viveka Gardens, in what students regularly cite as a safe and welcoming space.
In this workshop:
what is the vagus nerve and its role the body-mind continuum
a simple guide to polyvagal theory, the implications, and body visualisation
one basic breathing technique available to all and two that you can build on with practice to get full benefit
quite a lot of lying down (!) and some gentle yoga moves for muscle tension release
What this workshop does not include:
therapy: Fiona is not a therapist but as a result of the workshop it may be that you decide you need to follow up with counsellor or psychotherapist
I've got a very troubled relationship with my body and I don't think I'd been aware till I came here how much tension I'd been holding. It drops away. It's been so restorative already after only three weeks. The space feels very spiritual, rather special. You absorb it, it's a sanctuary. L, Spreyton
I've been to many yoga classes in the past and given up because they're too intense. This is gentle and it literally flows – what I thought yoga should be. The sessions always bring peace to my hectic mind. I find it hard to switch off at home and here it literally stops for an hour and a half. So grateful. D, East Leigh
I have just been on another beautiful retreat day at Viveka Gardens. Fiona creates a safe space and guides the day in a sensitive, empowering way. I have come away restored, calm and ready to embrace new things. The food is also absolutely gorgeous. Thank you Fiona. B, Black Dog
Viveka… a calm sanctuary to restore balance, a safe space to feel heard and reconnect to yourself. Fiona has a wealth of knowledge and supported me to deeply relax and give myself some much needed inner focus. Wholesome food, nurturing space. Highly recommend L, Okehampton
new workshop
Polyvagal Theory applied
Sunday 14th May 3 – 6pm
3-hour workshop
£40
includes talk, practice and vegan, grounding soulfood snack