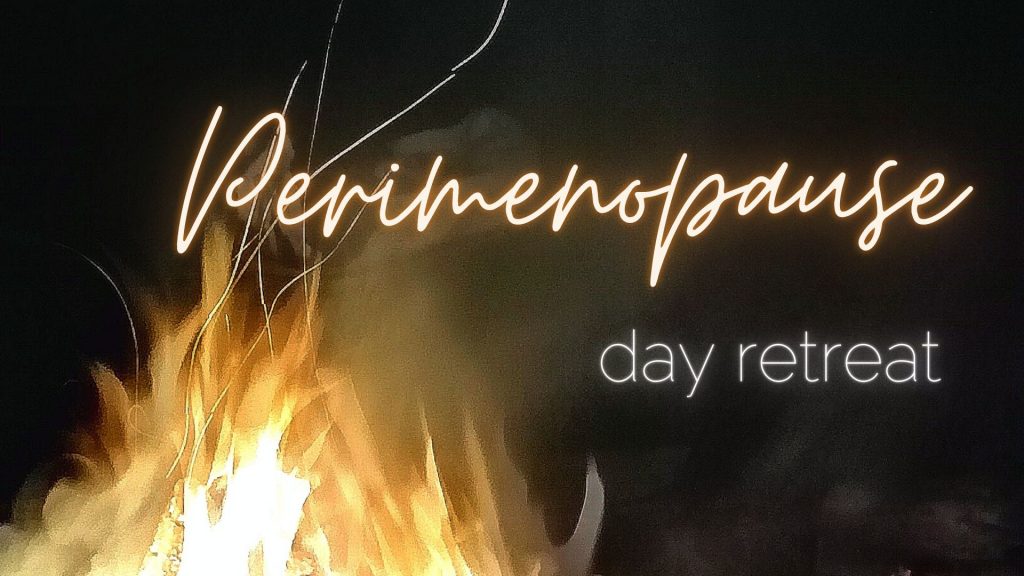 A day to know the alchemy of what's happening
Changes are happening in your body-mind, and it's confusing and uncomfortable, to say the least. It can also feel lonely. This retreat day will help you to embrace the change and see it as an opportunity.
Now is the time to dream into the rest of your life. With the contemplative practices of restorative yoga, yoga nidra, meditation walk, and reflection through journaling and circle we'll open up to the possibilities. Safely, warmly and kindly held there will be sisterhood – know you are not alone, and definitely not going crazy!
The spiritual path is a cycle of descent to wilderness and renewal to a transformed way. Perimenopause is a divine and momentous (and messy) phase in a woman's life and must not be stifled.
"If you don't leave yourself free to grow, who will play your part in your calling here on Earth?"
Clarissa Pinkola Estes, 'How to be an Elder'
For the day you will need:
notebook
eye pillow (optional)
scarf to put between your face and various cushions and bolsters in restorative
layers of clothes and extra, woolly socks
outdoor waterproof boots (wellies ideal) and coat
All equipment is here. If you bring your own, please only from a pet-free home, thanks.
Best to leave jewellery outside the studio, or at home, and leave off make up.
Fiona is a trained and experienced facilitator of restorative and nidra. Based at her Viveka Gardens Retreat Place in Mid Devon, she brings nature and season-based visualisations to nidra.
Sign up to the newsletter to be sure of knowing about events
A Blessing for the Woman in Perimenopause
In your duvet-on-duvet-off sleepless nights
Know that no change came without wrestling
In your confusion/meltdown
Know the caterpillar 'melts' and is reassembled in the chrysalis
When the brainfog descends
Know that your wisdom is re-wiring
As the heat rises again to the roots of your hair
Give thanks for the alchemical fire of transformation
As your pores pour out again
May you lose what no longer serves you (keep drinking in the new)
As you look in bewilderment at your changing life
Give thanks for the ups and downs through which you've learnt
If you're anxious about life being out of control
May you look at the conditioning that seems to dictate 'normal'
Coming to terms with young adult children or no children
May you grieve and come to some kind of acceptance
If you find former pleasures lose their taste
May you seek what delights and inspires you now
I beg you, do not be afraid: embrace the change
May you vision the next part of your life with joy
Feedback
I was probably quite scared before I came. I didn't know what to expect and I was confused about the changes that my body (and mind) are going through. It was welcoming and safe space and I instantly felt at ease. The mixture of journaling, yoga, yoga nidra and talking felt just right. I have come away feeling braver, more connected to myself and more accepting of who I am and the changes I am going through. S, Exeter

I found the day really enlightening. It clarified many things that I have worrying about and not fully understood. It's been an engaging process that opened thoughts I didn't know I had. I enjoyed the varied structure of the day, which included specific yoga practices to open up our hearts and our minds, a bit of jounaling, a walk in gorgeous countryside and a delicious lunch S, Zeal Monachorum

Thank you for a truly wonderful day: beautiful, magical and a deeply spiritual experience. I was surprised with what came up for me. I will take home so much from the experience. Sharing with other women about our lives thus far, similar symptoms, emotions and feelings in such a safe and held space was very healing. I really enjoyed the process and structure of the day which was very well planned: combining journalling, sharing, yin yoga (which I love) and yoga nidra was perfect. The food was delicious and the meditaion walk was a very moving and heartfelt experience. I will be back for more for sure. R, Oxford

The day created a safe space for me to step out of my deep trauma mindset and into the embodiment of my divine self that until now I considered an unreachable construct. The structure, patience, kindness and love, alongside meditative pracitce, deep soulful release have given me insight and knowledge to embrace who I can truly am and I have begun to reimagine myself. I have away with a feeling of peace, clarity and a clearer outlook. It may be the first step on the ladder but it's the best. S, Moretonhampstead
Saturday November 12th 2022
10 – 4
£75
includes vegan lunch, teas and afternoon snack
Viveka Gardens is keen to make yoga available to all – bursaries for those on benefit/low income Please contact to discuss