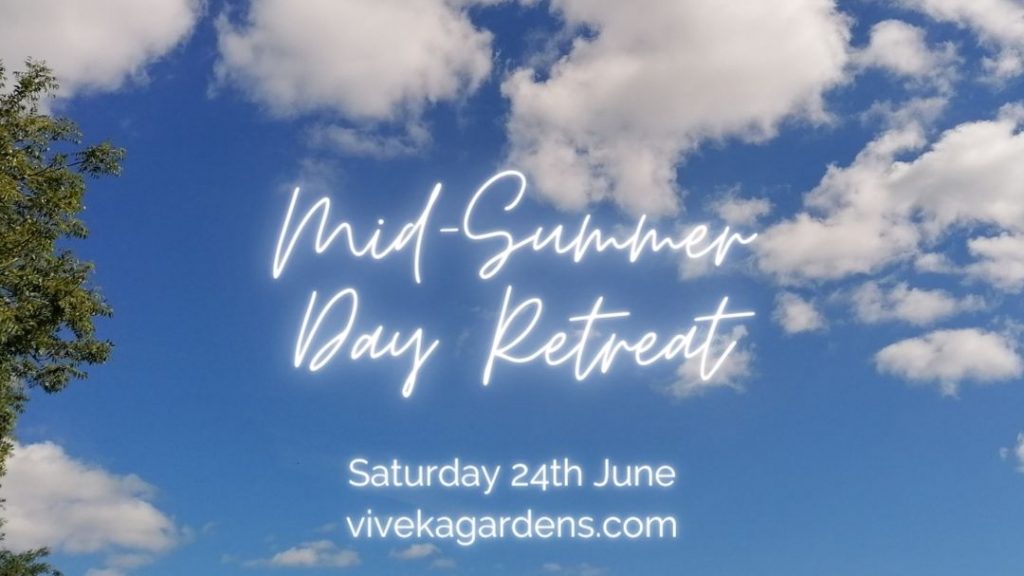 Rest, restore and re-inspire
At Mid-Summer the season is full to bursting with life. We've just gone past the solstice when the year was poised, the sun appearing to stand still at its high point. It's a threshold moment and a chance to take stock: where are we up to and what is our heart's prayer for the next stage?
With restorative yoga, yoga nidra, journalling, circle and meditation walk, we'll rest, reflect and ground ourselves.
And vegan lunch including produce from the garden.
Stay overnight?
It is possible to stay Friday night when you can also participate in a yoga nidra that Fiona will also be sharing online (7 – 8.30) and/or the Saturday night to make a mini-retreat.
For the day you will need:
notebook and pen
eye pillow or scarf to cover your eyes (optional)
sturdy shoes/boots for walking over rough fields
rainwear/sunhat
Fiona is a trained and experienced facilitator of restorative and nidra. Based at her Viveka Gardens Retreat Place in Mid Devon, she brings nature and season-based visualisations to nidra.
Blessed be you Creator of All Life
I see your splendour in the sheen of sun on water
Your lustre on the earth, your sheer transparency in air.
Light the texture of my life with your glory today
Tess Ward from Canticle of Midsummer
Sign up to the newsletter to be sure of knowing about events
Feedback from previous Retreat days
I booked a quiet day at Viveka Gardens so I could prioritise myself and find time for peace and contemplation. Viveka is a special place: so restorative and peaceful. Fiona was warm and compassionate and made me feel so cared for. The yoga was nourishing, and the food was superb. I left feeling rested, loved and restored. I'll definitely be booking again, and I'm keen to try more yoga nidra – sleepy yoga is my kind of yoga! E, North Tawton
I have just been on another beautiful retreat day at Viveka Gardens. Fiona creates a safe space and guides the day in a sensitive, empowering way. I have come away restored, calm and ready to embrace new things. The food is also absolutely gorgeous. Thank you Fiona. B, Black Dog
Viveka… a calm sanctuary to restore balance, a safe space to feel heard and reconnect to yourself. Fiona has a wealth of knowledge and supported me to deeply relax and give myself some much needed inner focus. Wholesome food, nurturing space. Highly recommend L, Okehampton
Fiona created a mind space for open thought. A gentle retreat to settle and ground and find clarity of thought with profound and powerful practice. I've enjoyed time away from everything and go home lighter, less burdened and with new goals. PS the food was lovely too! L, Fowey
This was the nourishment my mind, body and spirit was yearning for. Such a calm, peaceful environment. A gentle easy structure; Fiona a calm, knowledgablegrounded teacher/guide/leader. B, Chagford
Coming to Viveka Gardens has been such a blessing. An oasis in the desert – stillness, clam, refreshing, a safe place held so lovingly by Fiona. Gentle guidance enabled a novice like me to be able to participate in the yoga practice. The day has provided me physical and emotional space to process life and my steps into the furture. Delicious lunch and cake! S, Bristol
Saturday June 24
10.00 – 4.00pm arrival from 9.45
£75
includes vegan lunch, teas and afternoon snack
overnight stay, dinner, breakfast £75
Viveka Gardens is keen to make yoga available to all – bursaries for those on benefit/low income Please contact to discuss

How to book