If you are starving hungry and only got access to a supermarket usually hummus is the only vegan thing you can find to eat of any nutritional value. But for a yogi it's going to mean having garlic, a stimulant on a par with caffeine, and you'll humming not ommming.
Made with protein-rich chickpeas, humus is a great dish for sharing or spreading on bread or adding to jacket potatoes. So, here's a tasty, sattvic, no-garlic version using a carrot and celery soffritto, and magic ingredient sumac. It has a tangy lemony taste to lift the chickpeas and give a deep red colour. There's also the traditional cumin, with it's digestion-aiding aromatic compounds (chickpeas are possibly the heaviest of the pulses to digest) and tahini, ground sesame seeds so rich in calcium. Yum
I made this batch for a Viveka Gardens visioning get together, and was staying temporarily in a friend's family London flat. I didn't want to make a big steamy atmosphere boiling chickpeas so used tinned. Ideally nice, wholesome, dried organic is nice. With some internet research and jiggery pokery maths between cups/ounces/grammes I worked out that 500g dried chickpeas (2 cups) are equivalent to four 14oz tins.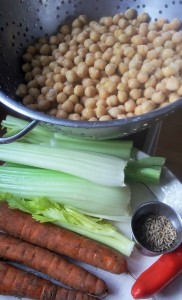 Ingredients for about 15 servings nb this is a party amount! A quarter of this, ie 125g yields 250g hummus, ie enough for a couple of meals  (eg on baked potatoes) or say 4 packed lunches.
3 small-medium carrots, finely diced
3 sticks celery, finely diced carrots and celery really are two veg to buy organic if at all possible, pests love them
1 desert spoon cumin seed
1 very mild chili maybe my friend Natasha had grown the one I used – very sweet with a mild heat
500g dried chickpeas or 4 tins
pinch of bicarbonate of soda or a strip of kombu seaweed worth investing in a packet if you are going to cook beans often; for advice on cooking pulses see vivekagardens.com/bean-feast
2 – 4 desert spoons tahini depending on how much you like the taste (personally, a lot!)
3 generous tbs olive oil
salt and pepper
1 desert spoon sumac powder
juice of one lemon
Method
having soaked the chickpeas overnight, bring to boil with bicarb or kombu. Boil hard for a good 10 minutes then gently boil for up to two hours, til one squishes quite easily between finger and thumb. OR, open the tins, drain and rinse
heat the oil in the pan to hot, add the cumin seed and chili. Ideally the seed pops a little and you can smell the aromatic compounds
add in the diced carrot and celery, stir and cover in oil. The oil temperature will have dropped  so turn up the heat a bit til the veg are sizzling and then reduce down again so they can soften (10 – 15 minutes). Stir in the chick peas, or what you can get of them in the pan to already give them some heat and prana.
blend this either in a magimix type or with a hand blender in a bowl and add in the rest of the chickpeas, tahini, sumac, salt and pepper. You may want to add some kettle water to the pan and deglaze the lovely oil, adding some of this oily water to the blender in order to loosen the mixture (and save your blender motor a little – I have seen at least two blender motors give up under hummus)
add lemon juice and then adjust the seasoning. scrape into a bowl, pour over a litle olive oil and dust with extra sumac
serve with a crusty sourdough loaf and soup and salad