Uh-ho forgot to take a picture of this one before it got eaten – twice that has happened! Totally vegan but still an old-fashioned cake with sugar,wheat and soya, so not for everyone. It is delicious and has a ganache type icing. Nice to serve with soya cream.
There are a lot of currant bushes at Viveka Gardens so we'll be making a lot of jam and jelly at the beginning of the summer holidays. I reckon blackcurrant could do well in this cake – we have a lot of bushes here at VG and make jam.
note: half this amount makes 12 cupcakes in a muffin tin
300g plain flour
50g cocoa powder
1 tsp baking powder
1 tsp bicarbonate of soda
1/2 tsp salt
300g granulated sugar
375ml soya milk
125ml  rapeseed oil or sunflower
7 tbsp seedless cherry jam
1 tsp almond extract or vanilla if using blackcurrant
For the icing
40ml (1 1/2 fl oz) soya milk
85g (3 oz) vegan dark chocolate, broken into small pieces
60g icing sugar or simply whizz some caster with the handblender
1 tbsp rice syrup or maple syrup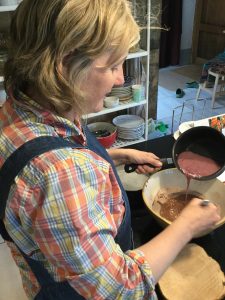 Method
preheat the oven to 180C/gas 4/fan 160. Lightly oil a 20cm spring release tin and tip in a bit of flour shaking and knocking the tin to distribute a fine layer all over, including the sides.
sift the dry ingredients into a bowl
put the soya milk, oil, jam and almond extract into a medium pan. Warm over a medium heat and whisk to combine
make a well in the dry ingredients and slowly whisk in the milk-jam mix. Mix well but no need to beat
pour into the cake tin and cook for 45 minutes til a skewer comes out dry. Let it cool on a rack until it comes away from the sides, then release the tin.
to make the icing heat the soya milk in a small pan until it boils then stir in the chocolate til it melts. Remove from the heat and whisk in the powdered sugar and ric/maple syrup. Allow to cool before icing.
recipe changed from a vegan society flyer