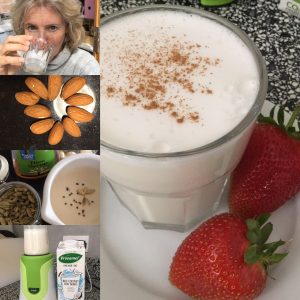 This is the protein-prana-power filled snack that keeps you going on Sivananda Sadhana Intensive from rising at 5, doing some practice, meditation and chanting and going on for the next 2 and a half hours with pranayama before brunch at 10. It's a classic yoga food and repays 'eating' in the mouth as you drink it. The carda'mum' is comforting and the pepper warming.
There's a lot of peeling here as you need to take the skins off the almonds and prize apart your cardamom pods to grind them in a pestle and mortar. It is possible to get ground cardamom but it can be difficult to find as it is expensive and has a short shelf life. The aroma from grinding it is a-ma-zing and uplifting in its own right.
Almonds have lots of great minerals, monounsaturated fat and B vitamins. It's really good if you can get Spanish almonds, ideally organic, not the American ones which take up miles of land and water as well as needing billions of pollinating bees to be brought in. And have airmiles associated with them.
Ingredients for 2 people
25g whole almonds (about 20) just covered with water and soaked overnight and peeled
pinch of pepper set grinder to tightest possible I find the bigger pieces don't blend and get left behind when you pour out of the blender, so no nasty surprises
pinch ground cardamom
0.5L non-dairy milk or water, warmed
1 teaspoon maple syrup or rice syrup but some non-dairy milks are already pretty sweet, like the coconut-rice milk in the picture so not always necessary
pinch cinnamon for decoration on top optional
Method
put the almonds and their soaking water, pepper, cardamom and sweetener in a blender and whizz for probably at least 3 minutes pulsing
add the warm milk and swirl around to get all the nice bits out
serve in a glass with a sprinkling of cinnamon