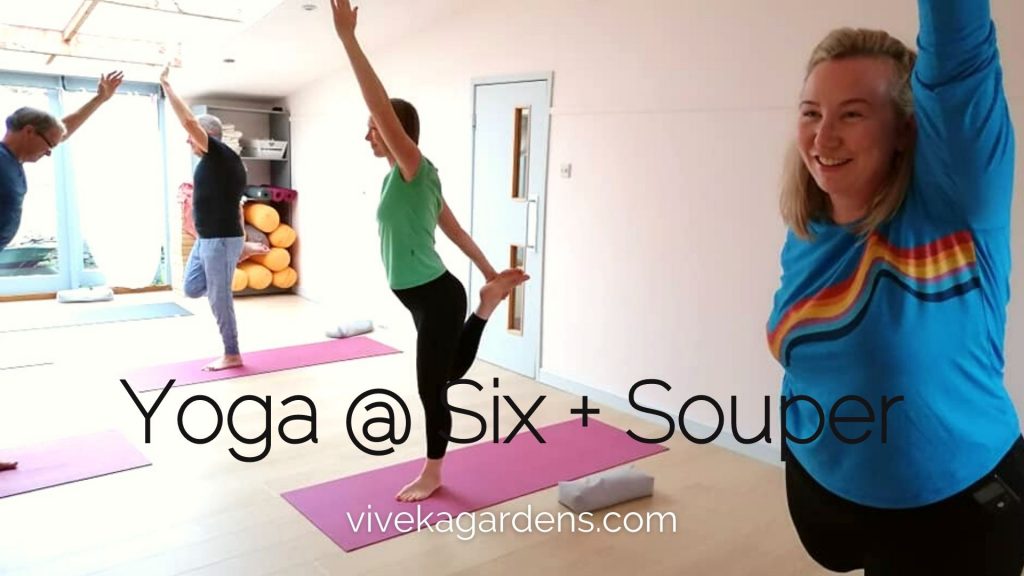 Yoga at Six
practice class with vegan souper soup and chat
October dates face to face at Viveka Gardens (will review November situation):
Friday 1st
Thursday 7th, 14th
Friday 22nd
Thurs 28th
90-minute hatha yoga class in real life at Viveka Gardens followed by vegan souper soup and chat.
Join our little Thursday/Friday evening community in the studio at Viveka Gardens Retreat Place for an intermediate level class, vegan souper soulfood soup and good company. Please pay for a minimum of 3 sessions up front as comittment to your practice and my livelihood, and add in extras as you come.
For people with experience of hatha yoga. We practice a classic sequence with pranayama, sun salutation, asanas and final relaxation. Lateral flow test on the day appreciated as a kindness to other students.
Each session £12
'I LOVE the real life sessions to get my exercise, get my relaxation, and get to chat with the others! Plus your soup is always lush and the family can do their own supper!' H, South Zeal
I have been practising and enjoying Yoga for a number of years in many different locations, mainly Village halls and gyms. I did however feel that something was missing. Little did I know that what I was looking for was right on my doorstep. Right in the centre of beautiful Mid Devon, I found Viveka Gardens. Such a perfect combination: a tranquil environment, a comfortable well equipped studio and most important an inspiring but gentle teacher, Fiona. For me everything was perfect, then came Covid and online, which I also enjoyed. However, fast forward 18 months, group sessions have recently recently resumed. Fiona has such empathy, kindness and understanding, with an aura that embraces all students putting us at ease. For me the classes are varied, challenging and well structured. Strengths are enhanced and positive guidance given for any shortcomings. Finally and for me, the finishing touch is the special wind down period. At previous Yoga practises when the session finishes, you depart and go home, whatever. At Viveka gardens you have the choice to go home or to wind down gently, sitting in circle chatting and eating gorgeous vegetable soups freshly prepared by Fiona. This is special, I am at one in body and mind. A, Lapford