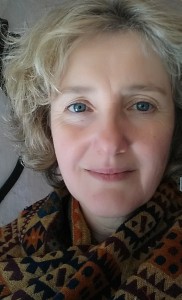 Fiona (spiritual name Sundari) teaches yoga classes, meditation courses and workshops on related yoga topics.
Trained and long-time practitioner in the Sivananda tradition, she has developed the life of a yogi alongside work and raising a family. She aims to facilitate a space where students can tap into the deep connection with peace that yoga allows.
Fiona Sundari was called to study with Sivananda in 1997, and has taught regularly since 2001. She completed the Advanced Teacher Training course and is a 'Bhaskara' twice over through the Sadhana Intensive of deep pranayama energetic work. She has taught meditation and other courses and been staff at countless retreats, as well as full time at the Ashram in France (Foret d'Orleans) and the London Centre (Putney).
Other work experience: tv production, lecturer/coordinator in higher education, urban farming and commercial food growing. Currently she is manifesting the vision of Viveka Gardens Yoga Farm.
In teaching yoga I aim to enable the kind of personal growth, peace and understanding I have experienced, humbly and proudly under the grace of my teachers.
"Health is wealth, Peace of mind is happiness, Yoga shows the way." 
Swami Vishnudevananda
You may also want to read what is hatha yoga? and Sivananda

Feedback 
I have been practising yoga for several years and have been enjoying immensely Sundari/Fiona's classes. Her energies are strong and gentle and I love how she sings Surya Namaskar (Sun Salute). Her classes are full of interesting variations and I like her style. I highly recommend her. Francesca (yoga teacher, Clapham)
Sundari is an experienced teacher who builds a good relationship with the people she instructs and makes the experience a very relaxing, as well as a challenging one for each individual. Sri Devi (yoga teacher, Putney)