On the cusp of June, coming into high summer let's see how our inner nature is with the changing season. With yin and nidra we'll dive within and rest in our intuition for what is true for you
scroll  down  for  more  info  on  yin  yoga  and  yoga  nidra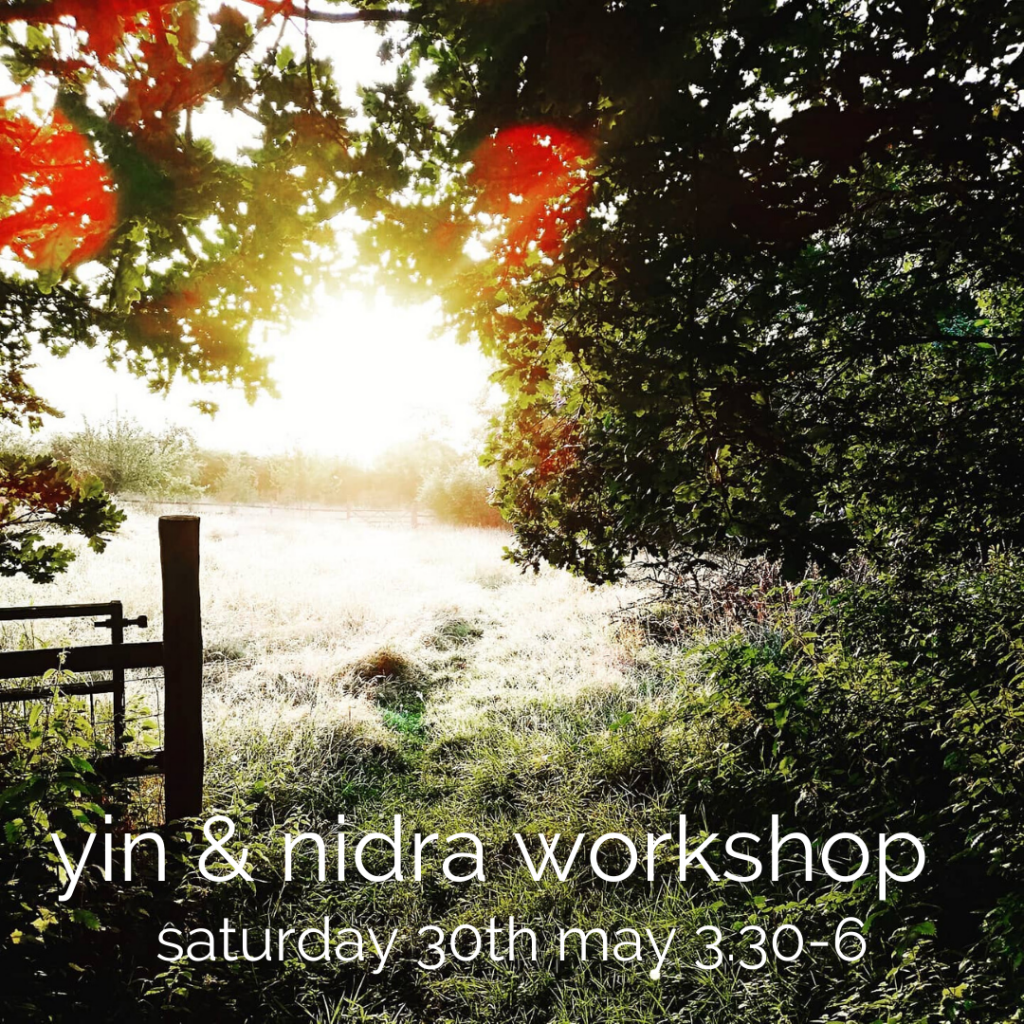 Yin practice involves long-held poses supported by cushions and blankets that allows deep relaxation and release on all levels. The session will be adapted for practice in your home (see below for prop alternatives to have ready)
Yoga Nidra is a guided lying down meditation practice for deep relaxation and personal insight whereby participants can release the build up of psychoemotional tension throughout the body and mind. Yoga Nidra helps with insomnia and stress, life challenges and next steps. I'll be bringing nature's earthing from fully rural Mid Devon, Viveka Gardens Retreat Place.
3.30 – 6pm includes:
– intro to the practices and theme for the session
– yin yoga adapted for home practice
– 40 minute yoga nidra
– circle to each share and listen to what's come up and is going on
£18 or 2 from your six-class card. Existing students, please message me for the link. New to yoga classes with Fiona? Please go here. Complete the new student form there and arrange a pre-class consultation. This not only gives you a chance to explain your needs, wants and any health conditions, but also helps establish rapport between us. In addition, it is an insurance requirement for online sessions.
You will need:
• A yoga mat, blanket or soft surface to lie on
• A bolster or roll pillows in a towel or small blanket, or put the bundle in a pillowcase, or roll up a heavy blanket. Two such bundles would be good, but can probably manage with one especially if you are more on the short and slim side
• Yoga blocks or cushions, one firm one off the sofa too
• Yoga belt or other long belt or scarf
• eye pillow or scarf to cover your eyes (optional)
• Layers of clothes and an extra blanket for warmth

Fiona is a trained and experienced facilitator
of yin and nidra. Based at her Viveka Gardens Retreat Place in Mid Devon, she brings nature and season-based visualisations and prana-filled vibration to nidra.
Next date: 21st June, Summer Solstice sign up to the newsletter to be sure of knowing about events https://bit.ly/2xebsm4