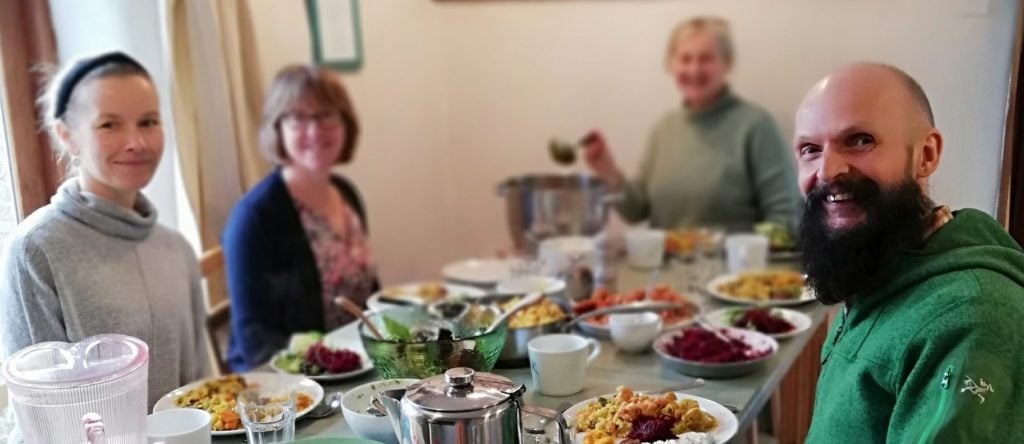 Learn to prepare then EAT a meal that you can reproduce for family and friends. Starter, main and dessert: #yummas.
THIS WORKSHOP IS FULL but have a look at the Spring Solstice Yoga and Food Growing Retreat or Menopause Day including Vegan Nutrition
This workshop is for people daunted by cooking from scratch, anyone wanting to widen their vegan repertoire, know about cooking beans and pulses, get some nutrition advice. Also, anyone hungry.
We'll be chopping, blending, baking, stirring, whisking, sifting, frying, grating, EATING
BOOK SOON a maximum of six for this workshop
Fiona leads the workshop, a vegan for 5 years now and before that a vegetarian since 16. She has experience cooking in ashrams, bringing up a family and now offering hospitality at Viveka Gardens. 'Delicious' is a word that regularly crops up in nice comments and both fb and google reviews.
Menu
starter (keeping this one a surprise)
dhal, rice, subji (vegetable curry), and not one, not two, but THREE fresh chutneys
trifle with SIX components
After eating we'll take a short reflective walk on the land and conclude with some gentle goal-setting for upping your delicious vegan game.
some feedback from previous  workshops (Eat for Your Dosha)…
A lovely relaxed day of learning. Nothing felt rushed but everything got done. Learning through doing as well as theory. And delicious food! Thank you
Fantastic day of coming together to prepare, cook and eat delicious wholesome food. Fiona's place feels like it is designed specifically for what she offers. Fiona is a person so warm and welcoming. She is very in tune to each person's needs. I would highly recommend Fiona's retreats and I hope I am lucky enough to return.
Very enjoyable day, well-organised and lots of healthy recipes. It was fun to cook with others. Thank you.
The day was so well prepared which meant we were all focused and fell into sharing the experience from the moment we men in the kitchen. Beautiful combinations of ingredients, delicious result! Thank you, Susy, Black Dog
Great day. Explanations about Ayurvedic way, doshas and food qualities – all done in a non-judgemental encouraging way. Delicious food and interesting group discussions. Come with an empty belly!
Veganuary Cooking Workshop
25th January
10am – 4pm
investment £45
includes
food
recipe handout
10g each of 3 key spices to get you started
Viveka Gardens is keen to make this available to all so bursaries are available for students and those on benefit. Please contact to discuss.