This is a vegan version of this traditional Indian desert. It can also be offered as prasad, food for the altar which is then shared after a ceremony, full of devotion.
Coconut cream is delicious and easily available. Coconuts have settled right round the tropics of the globe! You can find coconut cream in FOUR different sections in my local supermarket: Asian, West Indian, Chinese, plus one more the assistant couldn't quite remember. It's inexpensive but not possible to find organically grown, in my experience. Make up for it by choosing to source the rest of the ingredients organic and fairtrade.
Cardamom is classic but different or additional fragrant ingredients include: a 3-4 threads of saffron infusing from the beginning or 1 tblsp rose water added at the end. You could decorate with rose petals and/or chopped pistachios.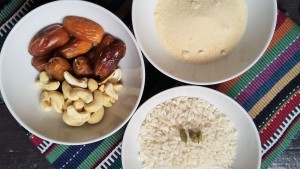 Ingredients makes about 12 servings of a desert spoon 
half a block (ie 100g) coconut cream
c 450ml boiling water
150g pudding or risotto rice or basmati, the traditional version which will cook more quickly
40 – 75g caster sugar according to taste, with upper limit being a traditonal sweet tooth level OR 20 – 40g agave syrup OR 40 – 80g date syrup
3 crushed cardamom pods
108g chopped dried fruit/nuts/seeds of your choice it's auspicious. I used dates and cashews in this one.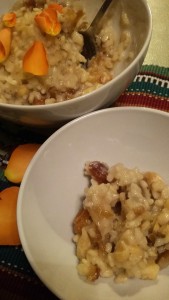 Method
Chop up the coconut cream and place in a small pyrex measuring jug, or similar and top up with boiling water to 450ml (1 pint) level. Mash the coconut cream to make a milk.
Place the milk, rice, sugar and cardamom in a heavy bottomed pan and bring to a gentle simmer for 30 minutes, add the fruit/seeds/nuts, and simmer for another 10.
Serve in small bowls
get ready for the yummmmmms