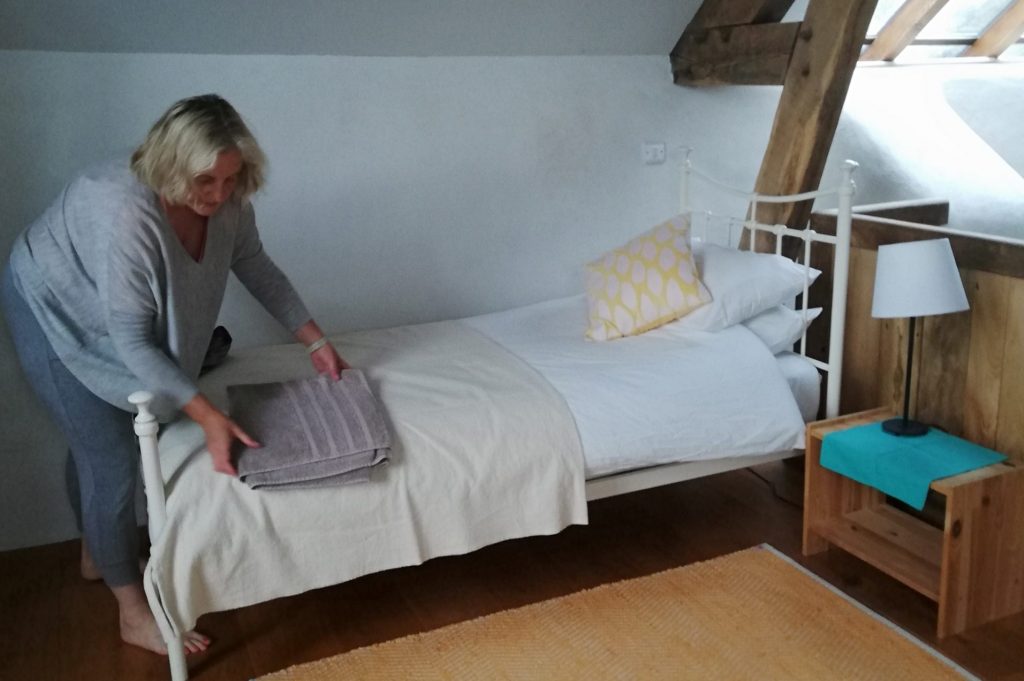 Welcome to the September Yoga & Detox Retreat at Viveka Gardens. Benefit from the full spring energy to release, cleanse and bring new vitality. With Fiona Law, yoga teacher and coach, and Ellen McCallum, naturopathic nutritionist.
Currently this retreat is still going ahead. 
Each day of this Yoga & Detox Retreat four-day-three-night retreat there is:
a gentle-ish hatha yoga class to stretch and stimulate
juices, herbal teas and light meals to support safe detoxification
a workshop on an aspect of nutritional self care with tips to take away
circle, meditation and journaling to reflect and digest mentally
a yin yoga and yoga nidra session for deeper tissue and emotional release
In addition, each participant will receive:
a pre-retreat questionnaire and then individual consultation with Ellen on the retreat
a coaching session with Fiona to explore your onward life and spiritual goals
MORE about the unique, balanced benefits of our approach
Viveka Gardens Retreat Place is in a peaceful, rural location in Mid-Devon with plenty of space and time to zone out, read, journal, soak up the earth, sun and plant energy. There's a kitchen garden where you can help with light tasks if you like. Also, an orchard for lying down in, fields and woodland for wandering and dreaming in. We'll be able to forage nettles, cleavers, dandelion and plantain from the land to add to our green juices, all excellent cleansing plants. Perfect for a Yoga & Detox Retreat!
Accommodation is in two shared rooms, airy and calm, part of the ethos of community and sharing (click on link)
Fruit and veg is organic and sourced locally. Brown rice that we serve is also organic.
Digital detox and mental fasting are supported with silence from lights out til after meditation in the morning
Getting here. You can pre-book to extend your stay or think about combining your trip with two lovely Devon coasts, numerous gardens and NT properties and a visit to Cornwall.
Retreat facilitators
Ellen McCallum is a naturopathic nutritional therapist with over 16 years' practice in alternative health. Combining nutritional science, biochemistry and naturopathic principles Ellen offers a truly holistic approach to prevention and healing with lots of practical ideas for implementation. Ellen leads the nutrition advice on the Menopause Day Retreat here at Viveka Gardens. Scroll down to read more about her approach and the workshops for the retreat.
By following her diet recommendations (I don't like calling it a diet as I don't feel it is!), I am healthier, happier, fitter and have lost a stone in the process without feeling like I am depriving myself in fact I am giving my body more of what it needs. With Ellen's help, I feel that I have found the best eating pattern for me and my body. I feel freed!
Kay
With her wealth of experience and unstinting support, I'm well on the way to a better healthier me 12lbs shed within a month and a 42% reduction in my medication. So if you, like me, have despaired of ever being able to make a positive change around your eating habits and your health, I strongly advise you to go and see Ellen Dawn, Dartmoor
Fiona Law is a long-experienced practitioner and teacher in traditional hatha yoga. Viveka Gardens is her vision for an ashram-like place where spiritual practice and nature connection integrate for making whole again. She is a fully trained and experienced facilitator of Yoga Nidra and Yin Yoga and holds 'Senior Teacher' recognition through Yoga Alliance Professionals. In addition, she upgraded her professional coaching qualification in 2016-17 and holds an Advanced Diploma in Executive and Life Coaching. "My aim is to facilitate a space in which individuals can connect with inner truth and come home to themself".
Spent a weekend at Viveka Gardens which is nestled in the beautiful Devonshire countryside. Fiona was welcoming and is full of knowledge and wisdom which she teaches and embodies. The energy of the farm impacted me immediately and was the perfect space and time to relax and heal. Definitely recommend visiting.
Leela, Yoga teacher, Winchester
A wonderful yoga retreat in a quiet corner of Devon. Fiona teaches yin yoga and hatha yoga from the heart, and can tell you lots about sustainable food growing too. The farm is a lovely place, away from it all – as soon as you walk in you relax. Warmly recommended 🕉 Esther, yoga teacher, Madrid
Ellen writes about her approach and the changing seasons:

Traditional Chinese Medicine explains the movement and changes of states through yin and yang. Movement or change is where life is. Our experience of deep restful sleep is yin, nourishing, restorative, inward, when we wake full of energy for physical and mental activities this is yang, outward, expansive, dynamic.

The seasons also reflect a change in the balance of yin and yang energies. From the yin of deepest winter to the yang in the heights of summer. During spring yang energy starts to build and this is the time of the wood element, related physical to our liver and gall bladder. It is the season of rebirth, renewal and sprouting!

Tuning our lifestyle into this energy brings a wide range of health benefits. These include: better energy, clearer thinking, hormonal balance, good mood, pain reduction, radiant skin, blood sugar balance.

During the intro talk and three workshops on the retreat we will:
find out what's happening in the body during detoxification and how to avoid side effects
make a sauerkraut to take away and learn how to eat for liver and gut health
make a castor oil pack and discuss other detox support techniques
have an introduction to epigenetics, the genetics of detoxification
find out about herbs and supplements
September 18 – 21
 (four days, three nights)
Arrival from 2.30pm, departure from 1pm
£360
Typical schedule
7am Group meditation and circle with hot water and lemon
8am Yoga class
10am light meal and workshop
12 gentle tasks in the garden or walk
2pm green juice
4pm Yoga
6pm light supper and circle
8pm meditation/nidra then detox warm drink
9.30 lights out