Invitation to Group Meditation and Chanting – Satsang
Satsang or the company of the wise removes the darkness and impurities of the heart, leads one to the divine path and causes the divine light to shine in one's heart Swami Sivananda
Free – donations of flowers and/or fruit for the altar welcome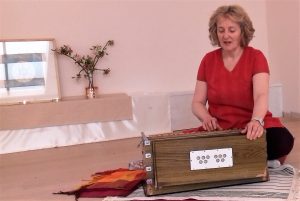 Next dates
join us at Viveka Gardens at 7pm on
May 27
June 17
August 5 & 26
Sept 30
A warm welcome to friends, yogis and my students and newcomers.
Thirty minutes' meditation is followed by up to 30 minutes of mantra chanting and/or kirtan and arati, and then sitting in that vibration. This is free, including hearty vegan soup and gentle conversation beforehand, if wanted. Great if you can bring your own cushion and blanket (some supplied) for sitting on the floor. It is also nice to have a shawl during meditation.
Flowers and fruit for the altar are welcome. Vases and bowls ready for you to put them in. Please RSVP and study the directions on the contact page. Car sharing is encouraged so let me know if you can offer or need a lift.
You might want to read more here, what is bhakti yoga? and here, chanting and here, meditation.
We will chant one of the two mantras below, both from the ancient Sanskrit text, the Rig Veda. You are encouraged to join in, even if the Sanskrit seems daunting and the meaning confusing initially. Cards with the words are supplied but you can also simply listen in and join in with any of the sounds as we go along, even hum the tune, feeling into the general aim. Once we have finished, it's nice to aim to not cough or move but to enjoy the vibration for a few more minutes.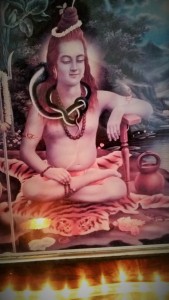 Maha Mrityunjaya Mantra
mantra for healing for ourselves, our nearest and dearest, our community, the world
om tryambakam yajamahe
sugandhim pusti vardanham
urvarukamiva bahndhanan
mrtyormuksiya mamrtat
OM we worship the Three-eyed Lord (Siva) who is fragrant and who nourishes and nurtures all beings. Just as the ripened cucumber is freed from its bondage (to the creeper), so may he liberate us from death for the sake of immortality.
To understand more what this means you can read this blog written in a melon patch in New Zealand in 2015.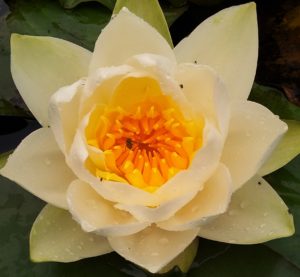 Gayatri Mantra
mantra to bestow wisdom and enlightenment, chanted at dawn and dusk while kindling the sacred fire
om bhur bhuvah svaha
tat savitur varenyam
bhargo devasya dhimahi
dhiyo yo nah prachodayat
We meditate on the glory of that Being who has produced this universe; may He enlighten our minds.
Read more about the benefits of chanting