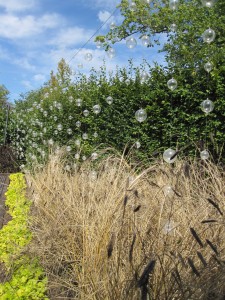 Elsewhere I've written about preparing to have resilience crop-wise (drying beans, brassicas), and in this spirit I decided to grow quinoa this year. It's a high protein grain and stores well. I find it really tasty and often have it for breakfast with avocado and a ginger, coriander oil, tamari and lemon dressing.  It's a habit from staying in a yoga centre and the daily routine there. A cup of grain with twice the volume of water in a closed pan on lowest heat takes about 20 minutes – time for a post morning practice staff meeting then eating together.  A good meal to break fast, the previous meal having been before 6pm the day before.
I'd thought quinoa a bit of a vanity crop. But yesterday I heard James Wong at the RHS spring show giving out the fruit of his research and lateral thinking for a new veg growing book, Incredible Edibles.  Quinoa was one of the crops he showcased, his premise being that in 50 years veg growing books have not moved on from the potatoes, sprouts and swede mentality, yet what we eat has moved on enormously.
Quinoa could replace spinach (bolts in the blink of an eye, enormous volume needed for a meal) and perpetual spinach (not great tasting).  Quinoa – Chenopodiacae, same family as spinach – leaves retain their bite so you get value for leafage grown; a square metre with 9 plants will yield a kilo of grain too. Quinoa grows like a weed, so easy to grow, and is really nutritious. The seeds emerge in a range of startling flourescent colours too, depending on the variety, so a feast for the eyes and all.
James gave valuable tips on threshing and winnowing (can't wait to winnow). I got my seed from the Real Seed Catalogue and will start germinating plants this weekend.  The rest of the talk was really inspiring. I don't want to reveal it all – you'll have to buy his book in September!  But look at the website here for some of James' tried and tested sideways crops.
Picture shows a concept garden from the Chaumont International Garden Festival last summer, which featured quinoa as one of a number of wind pollinated grains, and explored the biodiversity and co-evolution with man of grasses that yield grain. The floating balls represent pollen, I suppose, but also suggest the cute little balls of quinoa to me. I don't have any other pictures of quinoa – yet.
May update: http://projectdirt.com/group/clapham-common-bandstand-beds