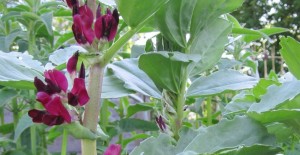 A potager, or kitchen garden, has a geometric design of easily maintainable beds with hard paving around them.  I've had a lot of fun lately working with pattern for a potager for a very nice early Victorian villa.  Thank goodness for computer-aided design, making and remaking design options.
Selecting veg varieties with ornamental value is one way to bring interest to your vegetable plot, be it in containers on a balcony, a raised bed or a garden.  Add in edible flowers and companion planting to attract insects, and the patch is more alive than ever.
Crimson flowered broad beans are a beautiful heritage variety. Even the conventional black and white flowered are pretty special, in my view.
Pot marigold, here a shaggy variety called 'Porcupine', contrasts visually with the green-black blistered leaves of Cavolo nero di Toscana. Use the orange petals to decorate salads and cakes.  Viola 'Heartsease' can be used in salads or in drinks – a cute plant only about 7 cm tall that self-seeds easily.
The coloured leaves of beetroot 'Bulls Blood' make a tasty addition to salads or wilted with pasta, as do leaves of chard. The variety 'Bright Lights' has red and yellow stems that can be steamed or used in stir-fry.
Parsnip flowers attract parasitic wasps which deal with aphids so you don't have to, as well as pollinating hover flies and bees.
If you are thinking of joining the unstoppable grow your own revolution, profit from our expertise and contact us for design and horticulture training.