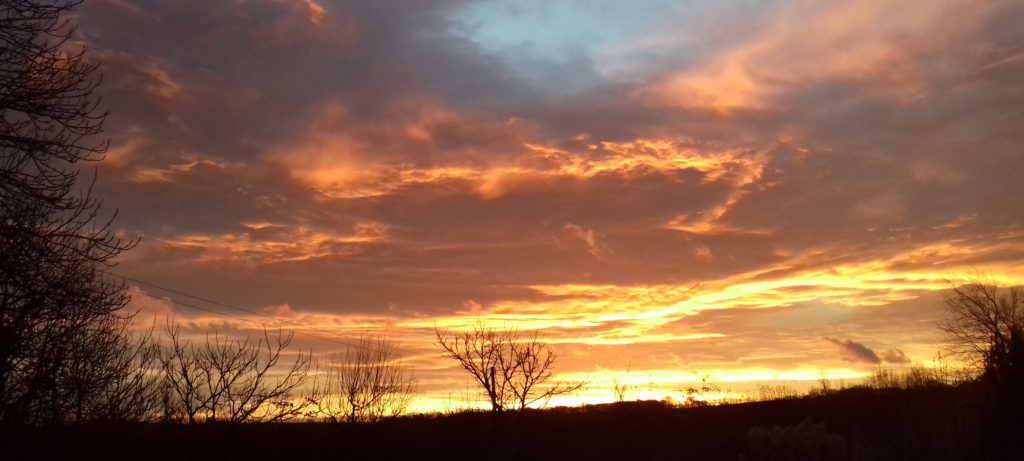 A warm welcome to the New Year's Retreat at Viveka Gardens Yoga Farm in Devon.
Are you experienced in yoga, meditation, prayer or other contemplative practice? Are you looking for a held, quiet way to see in the New Year with satsang? This is a small retreat for six people. Yoga sessions and workshops with nidra and circle will facilitate a personal review and looking forward process. There will be time for personal reflection, local walks or sitting on the land here at Viveka Gardens in Devon, great vegan food. There is scope for sharing practices and co-creating our time together.
Viveka Gardens Yoga Farm: a retreat place where community and visitors can ground themselves through yoga practices and food growing, and so connect with their true self to embody peace and unity.
This weekend will inspire your yoga journey and relax your being. Take time out to get perspective, nurture and nourish yourself. Enjoy the peace of rural mid-Devon and soak in the prana of nature. A chance to unwind and revive. For feedback on Viveka Gardens and Fiona the teacher please look at some nice comments.
Coming up:
sign up to the newsletter to find out about 2020's programme
Investment: £260 
Monday 30th Dec – Wed 1st Jan
option to stay extra night
BOOKING FORM
Viveka Gardens is keen to make yoga available to all so bursaries are available for those on benefit. Please contact to discuss.
Schedule
Monday 30th December
Arrival from 2pm
4.00 gentle yoga class
6.00 Supper
7.00 intro Viveka Gardens
8.00 opening circle and short yoga nidra (guided lying down meditation)
10pm lights out
Tuesday 31st December
7.00 optional group meditation
8.00 breakfast and free time
10.30 Yoga class
12.00 lunch
2.00 walk on the land here
3.30 Yoga nidra workshop
5.00 tea & snack
6.00 quiet time
8.30 supper
10.00 meditation, chant/song, sharing of readings and circle. We meditate the New Year in.
Wednesday 1st January
8.00 breakfast and free time
10.30 yoga class
12.30 light lunch
1.30 closing circle and departure
It is also possible to stay this night too, £50 B&B
there is also the option to begin a coaching relationship with Fiona that can be continued by phone/facetime see Sankalpa Coaching
Please continue reading retreat information, rules and Ts & Cs