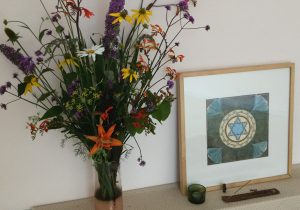 Puja is an opportunity to offer ourself to qualities we with to connect with. Navaratri is the nine-day festival of the Divine Mother:
Durga – mother, protection, spiritual upbringing and strength
Lakshmi – natural beauty, spirtual wealth, grace
Saraswati – artistic endeavour, higher knowledge, intuition
The sessions include meditation, chanting and reading. The practice of puja is on the path of Bhakti yoga, or devotion.
All at 6pm FREE RSVP
21 September: Durga (followed by class at 7pm)
25th September: Lakshmi
28 Sept: Saraswati (followed by class at 7pm)
30 Sept: Vijaya Dashami – Victory of the Divine Mother – you can stay on after the Yoga Nidra retreat day