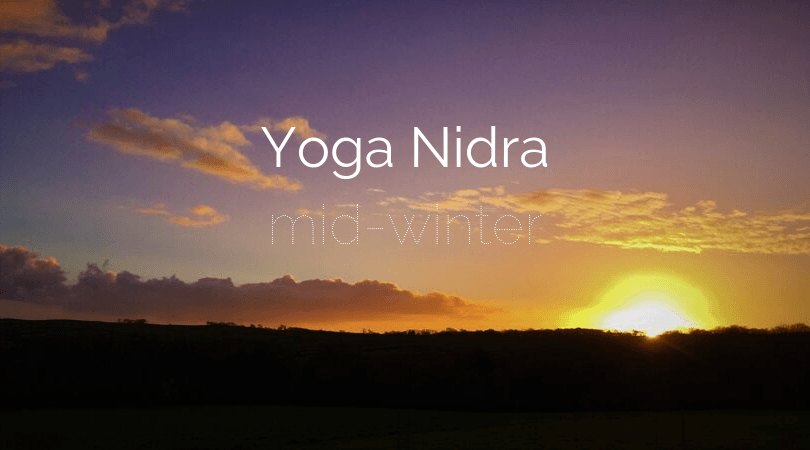 Yoga Nidra is a guided lying down meditation practice for deep relaxation and personal insight. It helps with insomnia and stress, life challenges and next steps.
Two workshops:
Saturday 14th December 12.30 – 2.30 (includes post-nidra snack) BOOK HERE
c/o Sivananda Bromley at Ripley Arts Centre, 24 Sundridge Av, BR1 2PX London, United Kingdom
Sunday 15th December 4.30 – 6.30 (followed by Christmas Party with food and chanting) BOOK HERE (button top left and go to workshops tab)
at North London Yoga Centre, 114 Cockfosters Road, Barnet, EN4 0DP
Approaching winter solstice, when the sun 'stands still', the theme for the workshop is dropping into the stillpoint. With a brief introduction to the practice, gentle yoga asanas, the circular breath and yoga nidra, we'll go to a deep level of relaxation and come home to our true and constant selves. Expect a tuning into the changing energies within and without.
Fiona Sundari Law is a long-time Sivananda teacher and trained in Yoga Nidra with Uma and Nirlipta Dinsmore Tuli. She has been facilitating seasonal nature connection nidras for over three years. Nidra has been key in visioning Viveka Gardens Yoga Farm, her retreat place in Mid Devon.
Bring a notebook and pen, scarf to cover your eyes, warm clothing layers and any extra cushions or blankets that you think you may need – mats, bolsters, some blankets and cushions provided.
Cost £20 – please visit the ticket link to book. Fiona will be teaching the regular Sivananda classes at Sivananda Bromley beforehand too.
Click here to sign up to the newsletter and find out about upcoming workshops, retreats, classes and bespoke sessions, as well as nidras, vegan yogirecipes and food growing at Viveka Gardens
Some nidra recordings here https://soundcloud.com/fiona-sundari-law