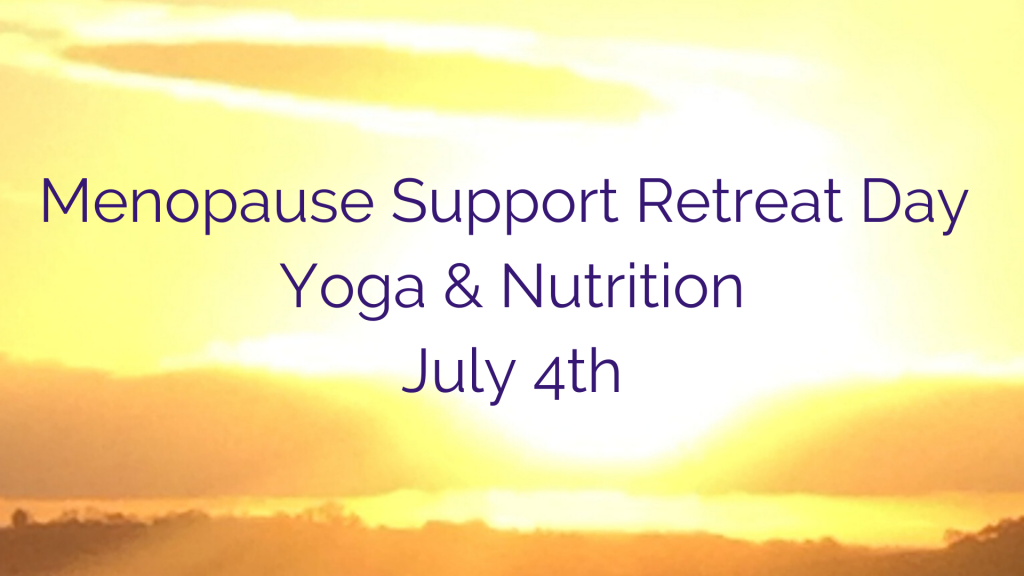 A warm welcome to the Yoga and Menopause Day Retreat Online for pre-, peri- and post-menopausal women with Fiona Law, yoga teacher and life coach, and Ellen McCallum, The Naturopathic Nutritionist. Together, we bring a body-mind-biochemisty-emotion-spirit whole approach to this transforming time.
Menopause is a wonderful opportunity to embrace change and vision how you want the next part of your life to be. There is also grieving for things lost or never had. This day retreat will inform you, help you to let go of the old and embrace the new.
Yoga
Yoga overall is great for keeping strong, cool and centred. Yin yoga, with longer held supported postures, helps you release deep tensions, physical, mental and emotional. Yoga nidra is a very good tool for listening to your heart's prayer and transforming to the next stage. Fiona is a very experienced teacher and holder of space (reviews). Yoga, nidra and coaching helped her menopause transformation and facilitated the founding of Viveka Gardens Retreat Place (The Change).
Nutrition
A fresh look at your diet and knowing the changes in your body chemistry is very beneficial. Ellen McCallum is a naturopathic nutritional therapist with over 18 years' practice in alternative health. She is based in Portugal and North Dartmoor. Combining nutritional science, biochemistry and naturopathic principles Ellen offers a truly holistic approach to prevention and healing with lots of practical ideas for implementation. Read testimonials from Ellen's clients on her website The Naturopathic Nutritionist.
Ellen will offer two talks
The Hormonal Changes of Menopause: A complex and unique experience which is an opportunity for establishing optimum health in later life
Nutrition for Me!: When it comes to diet no one size fits all, in this talk we will explore how to adapt your diet for your personal best health
Can't make it this time? Sign up to the newsletter to keep informed on what next
If guidelines permit, Ellen and I  still have a Yoga and Detox Retreat planned for the Autumn Equinox, September 18 – 21 at Viveka Gardens in Devon
Feedback from our February Menopause Day Retreat when we could still eat and walk together
I was really looking forward to today to give myself time to understand the menopause, how it is impacting me and how I can embrace it. This retreat has allowed me to reflect and look forward to the future, learning in a wonderfully safe environment. The yin yoga and nidra, tasty lunch, meditation walk combined with Ellen's talk on diet has inspired me. Thank you. Ingrid, Morchard Road
Thank you for such a lovely day! I feel like I have reconnected with myself again. This retreat was just what I needed – a nurturing space to give myself. I loved the variety of the day – the yoga, the fascinating talk on nutrition, the meditation walk and the delicious homemade food. I will be recommending to my friends. It was great to meet some lovely new faces too. Sarah, Chagford
It has been truly valuable to reconnect with myself in a very safe an nurturing environment. I've really gained a lot from the yoga and the information on nutrition. Thank you! Sarah, North Tawton
This has been a really special day exploring the menopause with so many layers of richness. Fiona holds the space in such an intuitive and safe way and I had the opportunity really explore aspects of myself. Thank you. Rachel, Exeter
You will need:
notebook and pen
A yoga mat, blanket or soft surface to lie on
A bolster or roll pillows in a towel or small blanket, or put the bundle in a pillowcase, or roll up a heavy blanket. Two such bundles would be good, but can probably manage with one especially if you are more on the short and slim side
Yoga blocks or cushions, one firm one off the sofa too
Yoga belt or other long belt or scarf
Eye pillow or scarf to cover your eyes in nidra (optional)
Layers of clothes and an extra blanket for warmth
Don't hesitate to be in touch with any questions
Online Day Retreat
Saturday 4th July 9.00 – 3.30
with two talks, yin-nidra workshop, sisterhood in circle and next steps co-coaching
£40*
HOW TO JOIN
Existing student of Fiona?Please message me for the Zoom link.
New to yoga classes with Fiona? Please click the blue button. Complete the new student form there and arrange a pre-class consultation. This not only gives you a chance to explain your needs, wants and any health conditions, but also helps establish rapport. In addition, it is an insurance requirement for online sessions.
Once you have booked you are invited to send your questions about hormones, nutrition and wellbeing to Ellen in advance
Schedule
9.00 Arriving, bring a cuppa
9.10 Introduction and Opening Circle
10.00 Talk – Hormonal Changes of Menopause
11.00 loo break
11.10 Yin and Nidra Session; check-in
1.00 Get your lunch and feel free to stay online to chat
1.30 Talk: Nutrition for Me
2.45 Next steps and closing circle
3.30 End; option to stay on and chat with Ellen and/or Fiona for follow ups via other link whatsapp/fb etc
*Viveka Gardens is keen to make yoga available to all so bursaries are available for those on benefit or financially impacted by Covid-19. Please contact to discuss.